Joined

May 30, 2016
Messages

1,311
Milan are currently embroiled in a Champions League race.
| | | | | |
| --- | --- | --- | --- | --- |
| Club | MP | GD | Pts | Form (Last 5) |
| Inter | 28 | 40 | 68 | W W W W W |
| Milan | 29 | 20 | 60 | D W L W D |
| Atalanta | 29 | 32 | 58 | W L W W W |
| Juventus | 28 | 31 | 56 | W W W L D |
| Napoli | 28 | 30 | 56 | D W W W W |
* Milan have worst goal difference
* Least amount of wins in last 5 outings
* Juventus vs Napoli tonight. A win from either would have them one point behind Milan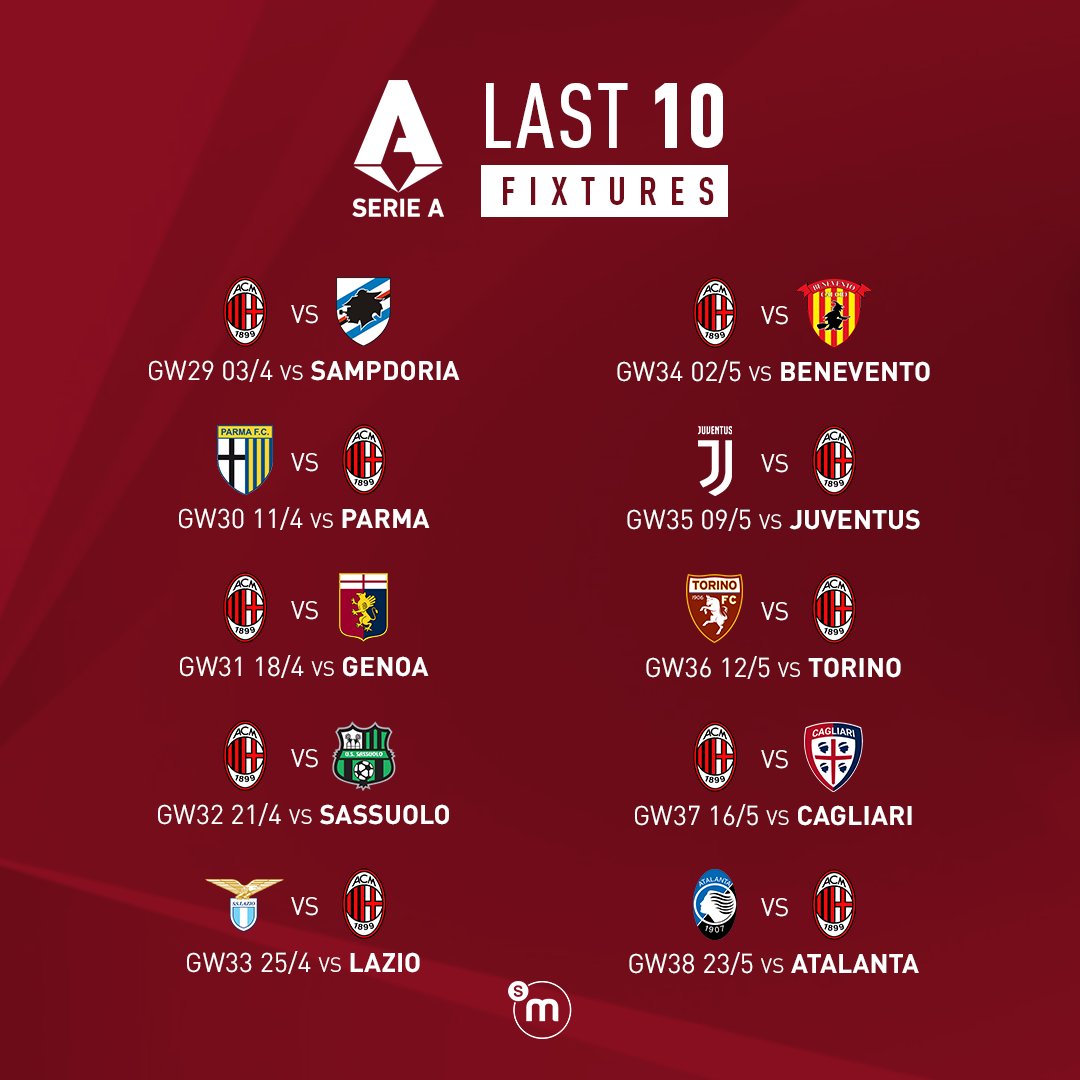 Milan's Home record - 15 matches. 5 Wins. 6 Draws. 4 Losses .
Milan's Away record - 14 matches. 12 Wins. 1 Draw. 1 Loss.
Pertinent considering Milan will be the away side against Lazio, Juventus, and Atalanta. Potential banana peel skins indeed. From that graphic 2-3 also stand out:
Parma - For a side fighting relegation (2nd last) they sure know how to get it in the back of the net (2-2 against Spezia, 1-2 Inter, 3-3 Fiorentina, 2-0 vs Roma, 1-2 Genoa, 2-2 Benevento) if last 6 outings are anything to go by. Even if they don't beat Milan per se, there's a good chance they will score. That alone is reason for Milan to be wary, as a draw would be a terrible result.
Sassuolo - My third favourite team to watch in Europe. And more importantly, Sassuolo are a tough nut to track. At the moment, Berardi and Camputo both picked up injuries from international duty. However, by the time Milan face Sassuolo, I expect both players to be in the starting berth.
Whilst acnkowledging that a top four spot might leave a bitter taste for a few, certainly Zlatan, and I'd presume a portion of the Milan faithful. Even so, It would still be a successful season considering there plight in recent years. They need the funds that would come about with a UCL place, and the exposure of playing in Europe's top position can only be a good thing for the players.
Skim reading through the posts, there was a discussion concerning Hernandez, and Zlatan . One player I think is of fundamental importance is Bennacer
One player which fits the profile is Bennacer.

Milan had the worst possible start in the Coppa Italia game against Juventus as they conceded a penalty. Whilst the penalty wasn't converted, the panic in Milan's play continued, as almost immediately afterwards Rebic received a straight red card (to clarify this is a different incident to the penalty). With this adversity, nervousness continued to creep in as Bonaventura recklessly fouls Juve player and compromises possession.

Bennacer had the confidence to show for the ball at the goal kick, quickly passes it, moves to the right and when he received it he calmly distributed the ball to the left. This was the first instance since the red card where Milan managed to alleviate pressure from Juve's onslaught, and with it, panic in Milan's play. Once that passage of play broke down, it was Calhanoglu who was the next Milan to get the ball. He hoofs it without even looking. It's evident at this point that confidence is low, and almost a resignation from some of the players that they were going to be on the receiving of a slaughtering.

The next player to have an opportunity to show his personality was Calabria, but shaken by Danilo racing towards him, he loses possession in less than 5 seconds. So, at this point, the time which Bennacer showed for the ball at Gk and pinged it was the only time which they bought themselves time. The next two occasions would have Bennacer at the heartbeat. Once again, Bennacer shows for the ball from a GK, back to goal with Matuidi pressurizing him, the Algerian is successful in evading the press from Matuidi which leads to a 10+ pass sequence. The sequence came to an end where Bennacer himself lost the ball which led to a counter attack with CR7 shooting from a tight angle.

Shortly after he attracts Matuidi whose noticeably marking him, draws him and releases the ball first time which led to another pass sequence and this time leading to a shot from Milan themselves. Now he picks up a loose ball in possession and drives the ball from the 2nd phase into the third phase. Bear in mind, Juve had numbers forward at this point. In doing so, he was trying to change the dynamic of the game with the Rossoneri pegged back. In another instance he has the ball deep in his own territory, pressured on the ball, he does a deft body feint, swerves his hip to see if there's an outlet to his right, quickly swerves to the left, takes an extra touch and plays it to the right back. Finds himself space for the return pass. Juve player tries to close him down, first time pass, 1-2 initiation player completely taken out of the game. Wins a throw in and buys time for his teammates which earns an applause from his manager.

Calabria was consistently struggling. Once again Juve were able to regain possession by harassing the full back. Paquetá to his credit tried to alleviate the pressure with a few decent dribbles. Unfortunately after doing the hard part successfully, he ceded possession carelessly allowing Juve to resume the attack. Bennacer gets the ball pings with his left foot, gets it back and wins a foul. The free kick he won was wasted as it went straight to Buffon, much to the visible exasperation of teammates.

As Juve look to resume possession, Benacer wins possession allowing Milan to fight back. Milan got opportunities which were few and far in between like when Kjaer got the better in a physical challenge led to a counter attacking opportunity and Bonaventura took too long on the ball when he had options either side. In the end his indecisiveness led to him being dispossessed. Shows for the ball at a goal kick and calmly distributes it to the flank. You can see Bentancur disheartened as Bennacer successfully beat the press with his pass. Leading to the first time in the match since the red card where Juve have multiple players in their own half during open play. As shown in my screenshot

A nice contrast to

Apart from beating the press with Pjanic pouncing towards him, just take a look at his teammates. They have utmost confidence that he won't lose the ball, and they were right. He played with a confidence and maturity beyond his years, unaffected by the magnitude of the game, nor the circumstances of his side being one man down.

.

I was impressed with his performances at AFCON (2019) for Algeria as he helped them to win the competition for the first time since 1990. As a reward for his exploits, he was named motm in final, and won both young player of the tournament, and player of the tournament. One thing that stood out to me was not just his ability to weave away from markers, it was his tenacity and grit to his game to not only dispossess players that like to assert their physical presence, but also continuing to advance the ball after being pulled, and kicked by various opponents. At the time his club side was Empoli. He backed himself to play for a team which would be more demanding of his services. So, he joined Milan shortly after the tournament. This might seem like an obvious decision, with Milan being an upgrade on Empoli. But with a player of his hard upbringing, he could've decided to play for a side which would give him exorbitant amounts. It's something that Christian Bassogog did who was awarded AFCON player of the the tournament in 2017 and capatilising on his enhanced reputation went to China. He was 21 years old too.

Moreover, its noteworthy that Bennacer had a routine performance vs Sampdoria, the very next game after Milan got thrashed by Atlanta 5-0.

Furthermore, he was part of a Milan side which overcame a 2 goal deficit to win 4-2. Going into the game against Juventus they were two points behind Napoli and Roma, and just four points above Hellas Verona with 8 games remaining. A loss would have put their chances in making the Europa League in jeopardy
Conversely, there's certain players that have no business representing Rossoneri.
To my untrained eye, there's two players I believe could have a galvanising influence on the side. That's provided they make the acquisitions of Saša Kalajdžić and Buendía. The former is a striker for Stuttgart. A towering presence that would command a fee that is relatively affordable. His age profile (23) is on the opposite end of the spectrum of their current options as Zlatan, and Mandžukić are 39 and 34 respectively. In contrast, the Austrian is approaching 24 this year, and seems to be on an upwards trajectory. He adopts a playstyle which wouldn't require a drastic change in Milan's patterns of play when they're at their best, and his intensity out of possession would complement the dogged nature of the side as a collective.
Moreover, Buendía would be a valuable asset IMHO. His tenacity would complement the intensity of Kessie, Bennacer, and Çalhanoğlu. His end product is something that would potentially elevate Milan side. If Milan can offer Champions League football, I think using funds to acquire his services would be worth the hefty fee.