Joined

Jul 19, 2014
Messages

4,910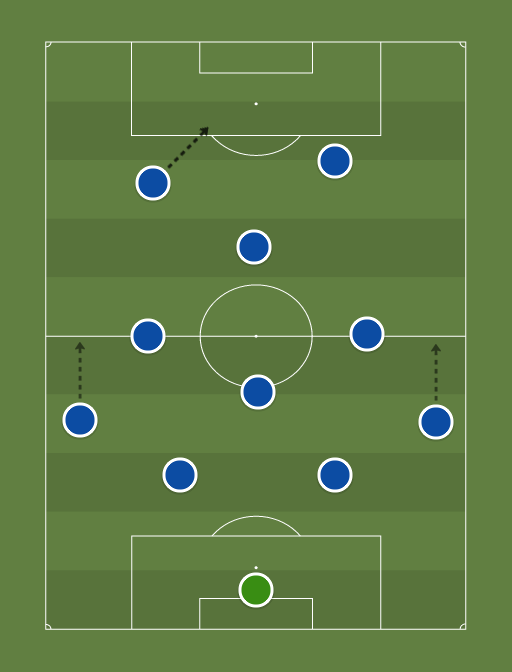 TEAM GIO (Marcello Lippi)



BLUEPRINT:

JUVENTUS 1995 AND ITALY 2006
APPROACH:
The team is modelled on two Lippi teams which bookended his managerial career at the top level. The first is the Juventus side he played during the
1994/95 title run-in
once Baggio had returned from injury. Lippi secured Juventus' first title in a decade (by 10 points, the biggest winning margin between 1989 and 2004) , adding the Coppa Italia and reaching the UEFA Cup Final, And the second is the midfield diamond he used in the crowning glory of his career at the 2006 World Cup deploying the system in the group stages which he had to then adapt to accommodate different injuries. As well as yielding significant success, both teams shared the same formation and tactical principles.
Both sides were built on a 4-3-1-2 formation based around a compact midfield unit that deployed a deep-lying playmaker at the base and a creative genius in the apex.
Lippi was always willing to adapt to the shape to the players provided they could fit within the overall structure and collective ethic.
Both teams used energetic overlapping full-backs, thoroughbred centre-halves and physical strikers capable of working across the front line.
Lippi prized
versatility
and
interchangeability
across his defence, midfield and attacking units. His midfields often used players such as Di Livio and Conte who were
equally as comfortable in wide areas as in central ones
and in Netto and Neeskens we have mirrored that comfort level in those spaces. Both players hit high levels at full-back early in their career before reaching their peaks in the positions we have deployed them.
PLAYERS & PLAYER ROLES
| | | | |
| --- | --- | --- | --- |
| Position | Original | Replica | Fit |
| GK | Angelo Peruzzi, Gianluigi Buffon | Dino Zoff | Simply the best available Juventus / Serie A / Italy upgrade, who thrived in the not dissimilar ethos of the Trapattoni and Bearzot systems. |
| RB | Moreno Torricelli / Gianluca Zambrotta / Christian Zaccardo | Eric Gerets | I admit to getting hard about Torricelli and wanted as close to an exact replica as possible. Of course very few right-backs shared Torricelli's stamina and hunger, but Gerets' box-to-box game and defensive commitment made him one of the most suitable fits. Both were visible leaders in their swashbuckling style of play and Gerets' leadership and drive are important components of the Lippi system. The 2006 iterations in Zaccardo and Zambrotta brought similar overlapping abilities to Lippi's narrow formation. |
| LB | Fabio Grosso, Gianluca Pessotto, Robert Jarni | Andreas Brehme | Grosso came from nowhere to make a decisive impact in 2006, winning the infamous penalty against Australia, bending in the extra-time deadlock-breaker against Germany, and smashing the winning penalty into the top bin. Brehme has all the attributes to do this and more, enhancing Grosso's impact on the business end of World Cups. And in a 4-3-1-2 his overlapping and playmaking is fundamental in making the formation tick. |
| CB | Jurgen Kohler, Pietro Vierchowod, Ciro Ferrara, Fabio Cannavaro | Karlheinz Forster | Kohler was a rock for Lippi's Juventus in 1994/95, Vierchowod provided typical man-marking grizzle, while Ferrara was the outstanding overall defensive performer for Lippi in the decade. In replicating his influence I have sought the best available stopper who, like Kohler and Ferrara, was imperious 1v1 but was rounded enough to operate in different positions and systems, with Forster comfortable in a back three or a four, and shining across LCB/SW/RCB. |
| CB | Massimo Carrera, Paulo Montero, Alessandro Nesta, Marco Materrazi | Jose Santamaria | Lippi's covering defenders were always capable of operating as physical stoppers. In the same vein Santamaria was both sweeper and stopper at different stages of his career, and has the all round defensive and leadership game to provide a stylistically clean contribution here. |
| LCM | Giancarlo Marocchi, Didier Deschamps, Daniel De Rossi | Igor Netto | Deschamps and Marocchi played on the left of the three for Lippi in 1994/95. Marocchi was very Netto'-esque in his style of play as a two-way midfielder, good in the transition, and capable of opening up the play onto his left foot. Meanwhile, Deschamps supported the play on the left flank with ease and had the energy to fill in gaps across midfield. Davids was more expansive, naturally left-sided and more physically dominant. Therefore Netto was chosen as a natural left-sided midfielder who was defensively solid, tidy on the ball, with the legs to push into wide areas, be it on or off the ball. Netto's ball-carrying ability can draw men away from Cristiano, in the same way that Di Maria hit such a purple patch in the same position for Ancelotti's Real Madrid. Similarly Netto's ability to defend into wide areas bolsters the flank in much the same way Di Maria helped to consolidate matters for Madrid. |
| CM | Paulo Sousa (later Andrea Pirlo) | Paulo Roberto Falcao | Sousa was charged with the playmaking responsibilities in the team marrying a solid box-to-box game with class on the ball. Falcao was my number one choice for the refit, sharing Sousa's strengths and elevating them a couple of notches. Unlike some of the great deep-lying midfielders, he succeeded in Serie A and has the overall game to fit into Lippi's philosophy. |
| RCM | Antonio Conte, Angelo Di Livio, Simone Perrota | Johan Neeskens | Trying to find a clean match for the industry, sacrifice and wide-covering abilities of Conte and Di Livio wasn't easy, but Neeskens was the most compelling choice. His high octane box-to-box game matches their work rate, while he spent much of his career supporting Cruyff in the same way the Juve pair fed Paulo Sousa and then Zidane. Importantly all three shone in the middle and out wide with Neeskens winning a European Cup from right back. His impressive overall package makes him the quintessential Lippi midfielder. |
| RF | Luca Toni / Fabrizio Ravanelli | Luigi Riva | Riva mirrors Luca Toni's line-leading role from 2006. His presence, physicality and back-to-goal game trouble opposition centre-halves and he has the elite finishing ability to capitalise on the creativity behind him. Similarly, Ravanelli was an all-round striker who was converted by Lippi to become a wide forward who could function across the front line. Riva shares Ravanelli's tendency to cut inside, his left foot, his physicality, his presence, his energy, his ability to create space and all-round game. He ramps each of these attributes up to a top level. |
| #10 | Roberto Baggio, Zinedine Zidane, Francesco Totti | Michael Laudrup | Lippi always found space to accommodate a genius in the hole - adapting his tactical approach in 1995, 1996 and 2006 to shift from a 4-3-3 to a 4-3-1-2 to build around the quality of Baggio, Zidane and Totti. Michael Laudrup shares the slippery and nimble dribbling of Baggio, the elegance of Zidane, and the smooth touches and false 9 movement of Totti. |
| CF | Alessandro Del Piero / Alberto Gilardino | Cristiano Ronaldo | Securing an exact match was tricky, but the extra layer of creativity in the midfield three allows us to go for a slightly more direct and productive player from the left forward position. Del Piero v1 was a tour de force, becoming increasingly lethal as he developed under Lippi before the knee injury in 1998. In the 2010-2013 version of Cristiano we have attempted to secure that similar blend of creativity and directness whilst maximising the attacking punch. Both loved cutting inside from the left flank onto their stronger right feet and both were equally capable of scoring from range as they were from closer in. Both were the star men in attack, oozed danger in the inside-left channel, and acted as the reference point for the rest of the team. |
----------------------------------
TEAM KENDRICK (Fabio Capello)
Inspiration
Capello's 93/94 Milan
Formation:
4-4-1-1 flowing into 4-1-3-2
Playing style:
Ultra-defensive. In possession, flows to a 4-1-3-2, with Makelele as the lone anchor.
Player roles:
Schmeichel commanding the area
Flat back four, although Makelele will drop back for when Kaiser moves forward, like for like Desailly and Baresi. Zanetti in certain situations can push forward as well.
Robben was not the greatest at tracking back, hence the upgrade on Vogts to Zanetti, because I will be even more reliant on him in defense.
Bozsik reprises Albertini's deep lying playmaker role.
Robben reprises the role of Boban and will look to cut inside on his left foot or create from the right wing.
Giggs as Donadoni, can either drift wide to create from the wing, or drift into a central role to match Mbappe and/or pick out passes to the two up front. Also tenacious at tracking back.
Ronaldinho as Savicevic, slightly behind Mbappe, finding the space in between the lines and making his trademark runs.
Mbappe plays as the number 9, although moves around to create space and make runs in behind for the 4 playmakers behind him.
Alterations from the original:
Mbappe is less an out-and-out striker like Papin but plays more Henry-esque, as he is want to do.
Ronaldinho also play less as a second striker but more along the entire of the front.
Last edited: