Joined

Jun 5, 2010
Messages

16,895
Location
How do we all feel about these? Are they the epitome of everything that's wrong with our club? Or are they a healthy interest outside of football?
JLINGZ


Jesse Lingard's clothing line. Launched in December of 2018 after we battered Fulham at home and just before the game against Liverpool. Did he time the launch to get maximum exposure? Knowing United vs Liverpool is world wide news? Should he have been focused on the game instead of having a clothing line distraction going on in the background? Let's see what Gary Neville and Roy Keane think:
My burning question is who is the target audience? It's not rival fans, it's not United fans and no school kid is running around a play ground wanting to be the next Jesse Lingard...
https://jlingz.com/
UPDATE June 2020:
Company financials
JJO


Alexis Sanchez clothing brand. Launched after the 3-2 away defeat to Brighton, a game in which Sanchez himself did not play due to injury. Sanchez later deleted the Tweets promoting the brand after a huge fan backlash questioning his commitment to the team and the timing of the launch.
UPDATE June 2020:
JJO brand no longer in operation
Fierce
Romelu Lukaku's limited edition cologne, available at Abercrombie and Fitch. Released April 29th after the 4-0 away defeat to Everton and draw to Chelsea, effectively ending United's chance for a top 4 finish. Currently still advertised on his Twitter feed but has come in for a torrent of abuse from fans. Comments such as:
"Does each spray only last for 20 mins before running out of strength and fading completely??"
UPDATE June 2020:
No longer associated with Lukaku but still sold in stores
AM9


Anthony Martial's brand name, release just before Zlatan arrived and he became AM11, which apparently upset him to no end. The brand was also released with a website that tracks all Martial's stats for club and country, a live CV if you will, very much focused on the Frenchman and his achievements.
You can also buy phone cases peripherals with AM9 branding on them.
UPDATE June 2020:
Website taken down, no longer trading.
JM8
Perhaps more innocent than the rest, Juan Mata keeps a blog on his personal website about his trails and tribulations as a footballing millionaire. To be fair to Mata, he uses his position to try and change the world for good and shed awareness on important ventures. Mata also started a charity that gives up 1% of his (and other footballers who sign up) salary to people in need.
https://juanmata8.com/en/
UPDATE June 2020:
Still in operation but not selling anything
Paul Pogba Adidas Collection


One of many of Paul Pogba's promotional campaigns regarding one of his sponsors. Adidas now have a Pogba inspired clothing line, with more on the way. To be fair, a World Cup winner will always sell things, especially in France.
https://www.adidas.com/us/paul_pogba
I'm not sure how others feel but for me, we have a group of players who think they've made it and use United as a platform for their own personal interests. They're either poorly advised or they believe their own hype.
UPDATE June 2020:
Now into Season 2 of the Paul Pogba collection on the ADIDAS store.
My own reply to Lukaku:
*Edit/Update --- Honourable mentions


#TC23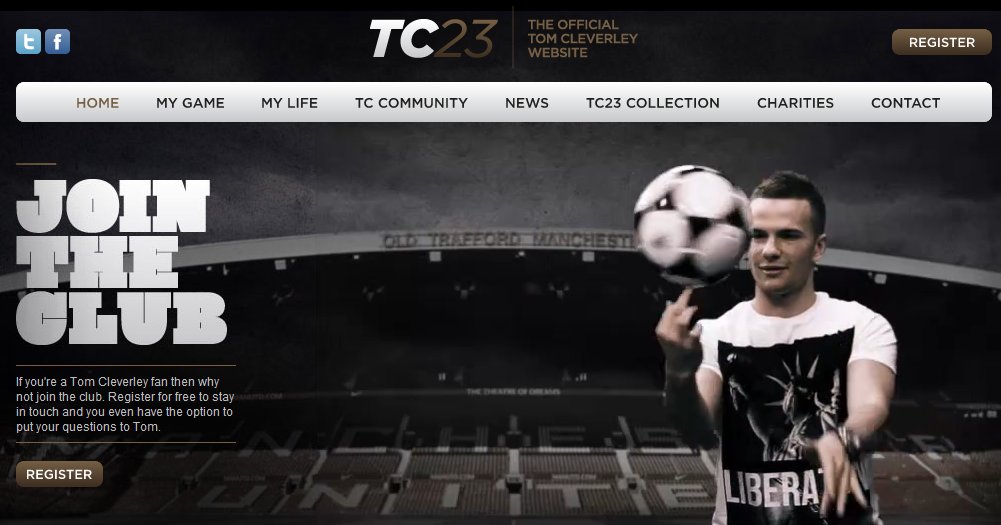 The man, the myth, the legend. Tom Cleverly set up the TC23 brand during an injury lay off after playing a mere 5 games for the United first team.
Tom came in for an abundance of stick which saw him leave Twitter and shut the brand down in the end.
Tom says he did it for charity and had no desire to pursue the branding until later in his career, a career that never developed into what it promised to be at the beginning.
Interestingly, the TC23 website is now gone and redirects to a Japanese porn site when you try to visit it. You've been warned but I have no doubt some of you will still try...
Here's an article regarding the branding and how it was received back in 2012:
http://therepublikofmancunia.com/tom-cleverley-the-brand/
Last edited: