Joined

Aug 23, 2007
Messages

25,177
Associated groups
The Hindu Ecosystem is spread out. The primary group doesn't allow anyone other than the admins – including Mishra – to post. So, there are associated groups for people to participate. We didn't even ask for it, but were added to three groups – Prashasak Samiti, or administrative committee with over 33,000 members; Anusheelan Samiti, or review committee, with over 10,000 members; Ram Ram Ji with about 1,900 people.
The Ram Ram Ji group comes with a description that gives an idea of what happens in it. Roughly translated it says: "Exhibitionists are the biggest terrorists. Hindus are being cruelly cut, burned, and killed. You are waiting for your turn."
The associated groups are used to circulate videos, images, and a lot of
OpIndia
articles. The material is regularly compiled and made available to all the members. While we were in this group we could see alternate versions of public events being presented and pro-Hindutva narratives being created. We have given a few examples of this below. The sheer scale of this hate-generation is mindblowing.
The commitment and diligence of the members of Hindu Ecosystem is striking. It doesn't take even minutes after an event takes place for the well-oiled propaganda machine to start churning out material – fake videos, articles, posters, hashtags, mass tweet links – gear up for Twitter storms, and providing absurd alternate realities about whatever they choose.
It is surreal to witness in real time the creation of fake news, so blatantly, so confidently, and so fiercely. Take
Tandav
. The web series was released on January 15, and the same day, Mishra urged the members to launch a boycott campaign against it.
This is what followed:
Or, take the Republic Day violence. Just a few minutes after TV news channels got busy reporting that farmers who had organised a tractor march to protest against the new farm laws were "clashing" with the police, the group was flooded with anti-Sikh and "Sikh terror" conspiracy theories, along with shareable material such as posters, videos, and, of course, tweet links like #TerrorAttackOnDelhi.
Remember the "international celebrity conspiracy" that dominated India's airwaves after Rihanna tweeted in support of the farmer protests on February 2, followed by Mia Khalifa and Greta Thunberg?
The group that day looked like this:
These were individual images we spotted, then we saw a compilation of posts.
If you would like to take part in this
karya
of spreading the Khalistan conspiracy theory, the Hindu Ecosystem has PDF files, running into hundreds of pages, handy. Titled, obvioulsy, "Sikh Terrorism Posts".
They contain images such as these:
The tone, and indeed purpose, of the posts is to demonize the Sikh community and show that they are "terrorists" by linking them to the phantom of Khalistan, and, as a bonus, demonize Muslims in the process. The posts are shared in the Telegram group and are available for the members to download.
This one document is truly endless. And there are three of them.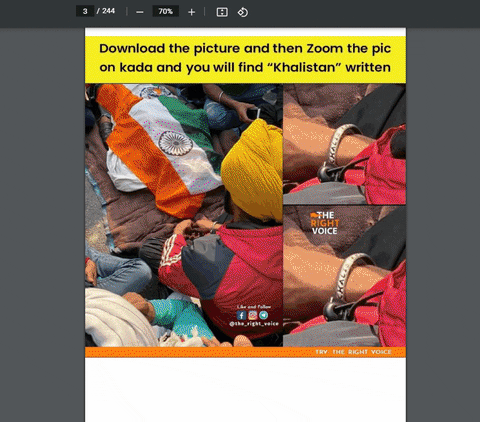 There are also state-wise and area-wise categorised PDF files of "mosques built by destroying Hindu temples".
All this may seem like buffoonery by a bunch of very online people. But remember that such material appeals to a scarily and increasingly large section of the Indian society that believes, and is consistently reminded, that "
Hindu khatre mein hain
". Hindus are in danger.
As of publishing this story, we have exited all the groups as our journalistic fly-on-the-wall purpose has been achieved.
If you don't yet fully grasp the gravity of what's being done through groups such as the Hindu Ecosystem, allow us to spell it out: they are fountains of misinformation, propaganda, directed hatred. They create and spread, in an organised way, Hindu supremacist and anti-minority bile, and incite communal hatred.
We joined Kapil Mishra's group without expectation, only to witness a factory of hate and propaganda operating in real time. Over 20,000 people are working in a coordinated way to incite communal hatred; it doesn't matter what event pops up on their radar they quickly give it a hateful spin and turn it into a conspiracy theory, complete with readily shareable images, videos, and forwards to tap into the hate-network effect.
As we were about to exit the group, we saw the hate factory begin circulating a video that purportedly shows a mob attacking a house as the Delhi police stand by.
A post shared in the group claims the home belongs to the person who allegedly killed Rinku Sharma in Delhi's Mangolpuri. The police have maintained that Sharma's death was linked to a failed business venture, but the Hindutva camp has been painting it as a communal killing by Muslims.
This is not over.
https://www.newslaundry.com/2021/02...jp-leaders-online-network-to-see-what-they-do