Joined

Dec 7, 2010
Messages

36,794
Location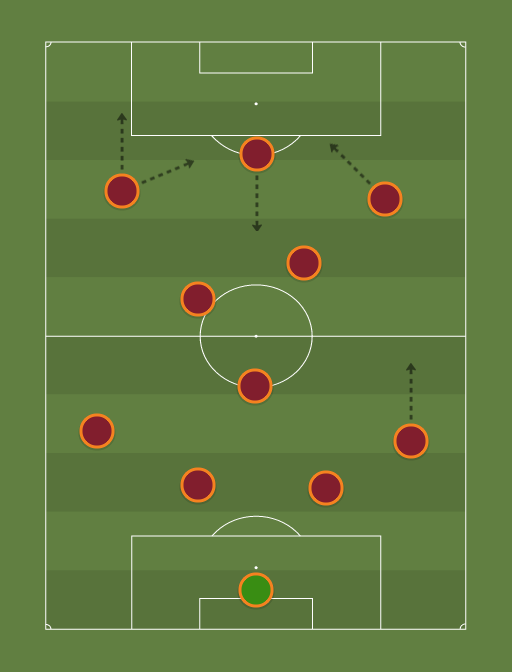 vs
.........................................
Team PNut
......................................................................................
Team Tuppet
.................................................
Team P-Nut
THE PLAYERS

Messi - Football Legend - Free-Role Side Offensive player

Totti - Career Peak as a False 9 - Version 2006/07 - Best Serie A striker
Luciano Spalletti's first spell at Roma was marked out by Francesco Totti's position on the pitch. The Italian tactician deployed the legendary n.10 as a sole striker and not behind two main forwards. That allowed the Giallorossi to become more unpredictable in the final third and helped Francesco Totti to stretch his career
.
Nedved - The Czech cannon
A complete, tenacious and consistent two-footed player, he frequently played as a left-sided, offensive wide midfielder or as a left-winger throughout his career, due to his crossing ability with his left foot, as well as due to his ability to cut inside and shoot with his right foot, although he was capable of playing anywhere in midfield due to his offensive and defensive work-rate. He was also deployed as a central midfielder on occasion, as well as in an attacking midfield and playmaking role, or as a supporting striker.
Laudrup - Barcelona Dream - World-Class Playmaker
Romário: "The best player I have ever played with and the 4th best in the history of the game."
Raúl: "The best I have ever played with."
Andrés Iniesta: "Who is the best player in history? Laudrup."
Lionel Messi: "I fully understand why he is considered one of the best players in Barcelona's history and even the world."
J. Cruyff "After Real Madrid with Laudrup had won 5–0 over Cruyff's Barcelona): "When Michael plays like a dream, a magic illusion, determined to show his new team his extreme abilities, no one in the world comes anywhere near his level."

Iniesta - Barcelona DNA - World-Class Playmaker who has won everything with Barcelona & Spain - WC Winner 2010
Xabi Alonso - World-Class Playmaker who has won everything with Real Madrid & Spain - WC Winner 2010
Lizarazu - Offensive LB who has won everything with Bayern & France - WC Winner 1998
Carlos Alberto - Legendary Brazilian Offensive RB - WC Winner 1970
Boateng
-
World-Class CB who has won everything with Bayern - WC Winner 2014
Excellent passer of the ball and is more than capable with the possession domination tactics I intend to use in this game.
Varane - World-Class CB
Not going to lie and say he is at the level of most other players on the pitch, however his attributes should allow him to be more than competent in the game and in my set up. A pacey cb that is comfortable on the ball and that has excelled in high profile games against top opposition.
Kahn - Keeper
The only keeper I watched growing up that I never thought would get beaten. A true rival to Schmeichel in those days. Excellent 1 on 1 shot stopper.
TACTICS
Call it what you want, but there's no defined term for this. Is it a 4-6-0, a 4-1-5-0 or a 4-3-3? I call it 'The Las Vegas Dream Team'.
The back four, at least, is normal, with familiar names such as Lizarazu, Boateng, Varane & Carlos Alberto. The midfield, on the other hand, is 'organised chaos'.
Francesco Totti mastered the false nine role that is so revered right now, starting in a forward position but dropping deep to take possession, ripping holes in the opposing formation and allowing his teammates to exploit them.
My false nine is a brilliant passer, and his colleagues make good, direct runs into the space he creates. The problems for the Tuppet occur when you try to man-mark the forward. He can drag you as far as halfway down the pitch before you realise you've made a fatal error.


HOW I WILL WIN
The idea is to play
Francesco Totti upfront, but rather than remaining upfront alone and waiting for service, Totti effectively played his usual trequartista role
, moving into the gap between opposition defence and midfield and receiving the ball to feet.
And this creates an entirely new problem for Tuppet (because Krol-Samuel are suddenly left without anyone to mark) and opposing midfielders (who found Roma effectively playing four players in the centre of midfield, and yet still using two wingers). It is almost impossible for my team not to dominate possession, and with the midfielders flying forward to exploit the space left by Totti, my side won't play exclusively on the counter-attack, regardless of where the side won the ball.
The 2 Ballon D'Ors are goal threats from the wings.
But whilst Totti is perhaps not natural a 'striker' per se, that does not mean he is not comfortable operating there.
His 26 goals with Roma in 2006/07 were enough to

win him

the European Golden Boot, and his position on the

all-time Serie A goalscoring table

proves what a fine finisher he is.
Iniesta-Laudrup are given the 'holding' roles in midfield and enable me to play high up the pitch and press from the front. Nedved is a wonderful gift in tactical terms and can stay wide on the left or participating in the organized chaos, with Messi having more license to come in off the right wing, knowing that the energetic Carlos Alberto would be providing width. In midfield, Laudrup played furthest forward, Iniesta is the calm, methodical 'link', whilst Xabi Alonso sat deep infront of the centre-backs.
Of course, there are further subtleties to the system, both in defence and attack.
Upfront, it would be possible for me to switch the positions during the game of Totti, Laudrup and Messi.
At the back, the most notable feature will be how willing the two centre-backs are to spread to the flank when my team is in possession (particularly when Kahn has the ball), making sure the pitch is as wide as possible. The gap in the centre of the defence will be covered by Xabi Alonso dropping into a centre-back role to create
a temporary three-man defence, giving the full-backs license to go forward
.
Team Tuppet
Formation: 4-3-3 with false number 9
Defensive line: Normal
Style: Fast paced attack based on quick transitions using pace on wings, not too concerned about possession.
Attack:
My team showcase 3 of the Europe's finest forwards in Cristiano, Hamrin and Johan Cruyff in a fluid interchanging forward line. Their roles are pretty straight forward - Cruyff would start as his favorite false 9ish role that he played at his peak for both Ajax and Netherlands. He would be dropping to midfield (all over the pitch really, this is where his interpretation of false 9 role differs from Messi's) to do his playmaking and use his creativity and dribbling ability to create chances. From Left Cristiano would provide direct runs to occupy the center forward position vacated by Cruyff and use his pace, power, dribbling, heading and finishing to be the main goalscoring threat for my team.
Hamrin provides a nice balance to the forward line, as fast, creative and technically proficient winger who can both stretch the defense by staying wide and creating chances or cut inside to score goals himself. He boasts a very impressive goal scoring record both for country and clubs (8th in all time serie A goal scorers) and was a man for big occasion as his performances in world cup 58 as well as his brilliant performances in Milan's CWC 68 & European cup 69 wins shows.
Together this forward line has a lot of goals to offer, along with electric dribbling, pace and creativity. It would take something special from any defense to stop this forward line.
Midfield:
Tardelli and Viera are in box to box roles providing ball winning capabilities and mobility to help Pirlo run the game from deep in his favorite deep lying playmaker role. While both of my b2b mids help in defense a lot, Viera would be slightly more attacking, while Tardelli would be more defensive esp providing cover for Suurbier as he is weaker defensively of my fullbacks. Pirlo gives a great outball to us from deep which would come handy to initiate a quick counter attack. As Cristiano, Krol, Suurbier & Hamrin all providing width and Cruyff being available to receive ball all over, Pirlo has a lot of targets to hit from deep using his excellent long passing. All 3 of my midfielders would help in the defensive phase, there is no one to play Makelele role. Pirlo is my holding midfielder but most of the ball winning would be done by Tardelli and Viera.
Defense:
Starting in goals is Lev Yashin who is widely regarded as the greatest goalkeeper of all time. Ruud Krol and Suurbier are in full back roles. In center I have a classic Stopper-ball playing defender duo of Walter Samuel and Maxime Bossis. Bossis is as class a defender as they come, with great technical ability, speed and positioning, able to play anywhere in the back line, he provides a perfect partner for the rugged, aerially dominant and aggressive Samuel.
Overall I think its P-nut's center defense which is slightly weak in this context and his somewhat unbalanced midfield (lack of ball winners and too many playmakers) could be the edge that propel my team to victory. P-nut's attack however is very good, but his best attacker in Messi is facing my best defender in Krol. Krol would have to stay a bit more disciplined, although he would still go forward on occasion. I don't really expect Krol (or anyone) to stop Messi completely, but he would blunt the attack somewhat. It would be however hard to stop Cruyff and co with P-nut's defense.