Joined

Apr 12, 2018
Messages

2,071
Supports

Germany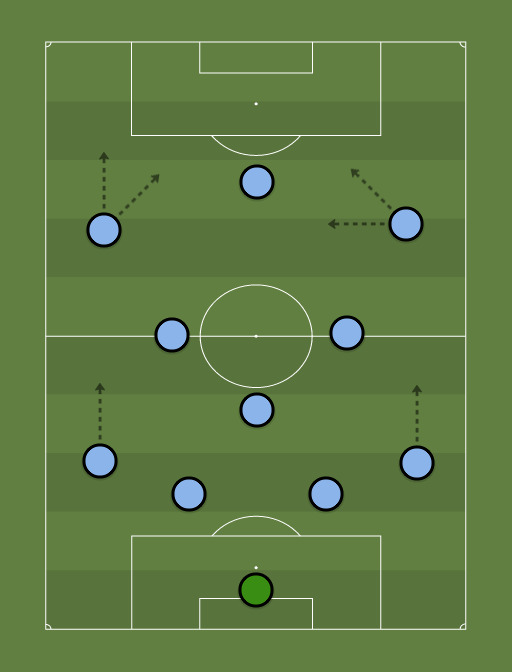 ..........................TEAM Brwned ......................................VS................... TEAM Pat / Sjor Bepo
WRITE UP TEAM Brwned
As this is a thoroughly modern team, very few players need any introduction. However you can find the player profiles in an interactive dashboard, alongside a summary of the team's style and tactics, all in
here
*. A screenshot of that team overview can be found below also.
*note it's a bit tricky to view on a mobile!
WRITE UP TEAM Pat / Sjor Bepo
Formation/Tactical Synopsis:
Counter-attacking 4-3-3 with a low to moderate defensive line.
OFF THE BALL:
Our defence is based around one of the best centre-back pairings football has seen since the turn of the millenium. With John Terry and Ricardo Carvalho as the pillars, Chelsea broke the Premier League record for the least goals conceded in a season in 2004-5, leaking only 15 goals. They maintained an impressive record in subsequent seasons, conceding only 34 goals in 54 games in all competitions in 2005-06, and 46 goals in 62 matches the following season.
Terry and Carvalho will be in familiar territory with the deep-ish line and the team playing predominantly on the counter, and they have a stellar supporting cast. David De Gea is one of the relatively select band of goalkeepers that can feasibly claim to be an upgrade on prime Peter Cech; Mascherano will offer a comparable level of protection at DM to Makelele; and Maicon/Benarrivo as a full-back package are a substantial upgrade on any LB/RB duo that flanked Terry/Carvalho for Chelsea.
Harry Kane provides a stern challenge for any CB not named Chris Smalling, but our CBs look well-equipped to shackle him both stylistically and in terms of quality, while Mascherano is one of the more credible fits in any pool to mitigate against a great playmaker such as Laudrup. Liedholm and De Bruyne are both reliable contributors in the defensive phase, and our forward trio are exceptionally hard-working.
ON THE BALL:
Fast, surgical counter attacks are the name of the game here, and we have multiple avenues through which to build our attacks. Both FBs boast excellent attacking games, with Maicon in particular liable to bulldoze his way into dangerous positions. He has ample end product too, registering 6 goals and 11 assists in 33 Serie A matches in 2009-10.
Liedholm is simply one of the best players in the pool and one who probably merited inclusion in the block or star player lists. A metronomic and creative passer who excelled in a direct set-up for an excellent Sweden team, he's partnered by one of the deadliest final-ball artists in the modern game in Kevin De Bruyne. His
dissection of Pep's Bayern
for a Wolfsburg team that had 31% possession is a compelling demonstration of his threat in a counter-attacking set-up. They'll be in their element here with the movement of our forward line, and playing alongside each other, with their partnership bearing similarities to the Liedholm/Gren and De Bruyne/David Silva creative double acts.
Enzo Francescoli glues together our attack from the centre-forward position. A tireless, selfless pursuer of lost causes in his younger, centre-forward incarnation, he brings supreme mobility and technical quality to the role. He's a dangerous goal threat in his own right, and moreover an ideal focal point to occupy Varane and Ramos and bring his teammates into play. Marco Reus flanks him on the right wing, with the prolific and jet-heeled Oleg Blokhin operating from the left side of our attack. Reus has a stellar record against Ramos-led defences, racking up 4 goals and 2 assists in 7 matches. With Maicon as a dominant two-way wing presence at RB, and De Bruyne's brilliant crossing ability and natural propensity to drift wide, Reus has freedom to roam at will and link up with Francescoli and Blokhin at every opportunity.