Sleeps with tramps, bangs jacuzzis, dirty shoes
Staff
Joined

Nov 19, 2009
Messages

49,277
Location
The Swiss franc's mental movements over the last two days have wiped out a few FX brokers, one being West Ham's shirt sponsor Alpari. They might have a blank kit on Sunday- didn't they used to have fairly recently?
West Ham United faced with empty chests as shirt sponsor goes bust
Alpari's insolvency raises questions about what will appear on players' shirts on Sunday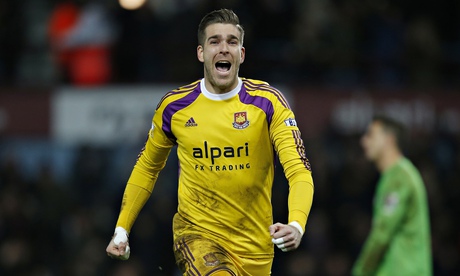 Alpari's logo clearly visible on the chest of West Ham's Adrian during their FA cup third-round replay against Everton. Photograph: Action Images
Companies put their names on the shirts of Premiership football clubs in the hope that some of the sporting glamour will rub off on their dull corporporate images. But it doesn't always work out like that.
West Ham's sponsor, Alpari,
sank into insolvency on Friday
, caught out by wild spasms in the currency, raising a question mark over whether the company's logo will be blazoned across players' chests when the team runs out at Upton Park to face Hull City on Sunday.
It's not the first time the club has faced such a dilemma. In 2008, the group's then shirt sponsor XL, Britain's third-largest package holiday group,
collapsed spectacularly
leaving 80,000 customers stranded overseas and disrupting the travel plans of many more.
The brand association was supposed to be lucrative for the east London club but ended in the Hammers
suspending all sales of replica shirts
and removing branding from Upton Park and team shirts. West Ham's then owner, the Icelandic tycoon Björgólfur Guðmundsson, had been deeply involved in the affairs of XL for many years. The following year Guðmundsson, who had also held a major interest in Landsbanki, the failed Icelandic bank behind the Icesave scandal, had declared himself bankrupt.
Previous West Ham shirt sponsors included Dr Martens, the shoe brand owned by R Griggs & Co, which narrowly avoided bankruptcy in 2002.
The trickiest spell in recent history for Premiership clubs and their shirt sponsorship deals was 2007-8. XL was not the only kit name to go to the wall that period – that corporate failure was eclipsed by collapses of AIG (Manchester United's shirt sponsor) and Northern Rock (Newcastle United).
http://www.theguardian.com/business...-faced-empty-chests-shirt-sponsor-alpari-bust