Joined

Jun 29, 2010
Messages

8,596
prolifik
Gio
prolifik Tactics
We're once again lined up in a 4-2-3-1 setup, with Zidane slotting in as a classic #10 orchestrating for our explosive forward line. In addition to their sheer pace and skill, the interchangeability of our front men makes them a major challenge - Figo and Mbappe are both comfortable on either flank, and Henry is happy to drift all across the final third to find space. The attackers are supported by a balanced double-pivot, with Alonso sitting and dictating while Pirri plays a box-to-box role.
Our defence has seen a major upgrade with Nesta and Baresi coming into the centre. Baggio and Vieri will have a warm time finding space against this pairing. With Gio's attack not having much pace to run in behind, Baresi should have some joy marshalling his famous offside trap. Baresi's ability to carry the ball forward from the back also provides our attack with an additional dimension which will serve us well against Gio's incredible defensive setup.
Gio Tactics
IL GRANDE INTER BLUEPRINT
The team follows the tactical blueprint laid out by Helenio Herrera's Grande Inter side of the 1960s which won 3 Serie A titles, the European Cup twice in '64 and '65 and were runners-up in '67, as well as 2 intercontinental cups.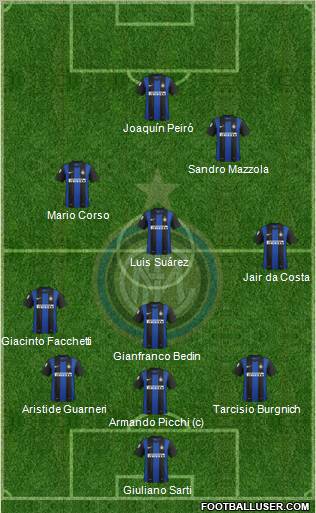 The same shape and counter-attacking catenaccio is in play here.
Juventus and Italy's success in the late 1970s and early 1980s inspires the selection with
Dino Zoff
(Sarti) as a formidable presence in goals with club and country compatriot
Geatano Scirea
(Picchi) acting as libero ahead. He is flanked by the duo of
Paulo Maldini
(Guarneri) and
Lillian Thuram
(Burgnich). Ahead the rock
Marcel Desailly
(Bedin) shields the defence, and to his left
Giacinto Facchetti
is back in his familiar spot.
Taking command from the centre is
Luis Suarez
who takes on the same role as he did for Herrera's side. He is supported to his left by new addition
Andres Iniesta
(Corso) whose silky smooth work in central and inside-left areas provides both defensive solidity and sheer craft in possession. On the right is
Bruno Conti
(Jair) assuming a similar role to his Italy '82 heroics, bringing flank graft and sharp counter-attacking interplay in central areas.
In attack
Roberto Baggio
(Mazzola) joins to pair up with
Christian Vieri
(Peiro). Briefly they were brilliant together at France '98 so there is certainly a complementarity in style that should allow them to get the best out of each other - Vieri's physicality occupying the centre-halves, allowing Baggio to weave magic inbetween the lines.
Tactical points for the game:
The defensive strength of the team is bolstered further by the addition of Facchetti. This has two benefits - first, the big Italian athlete is freed up to take control of the flank in his box-to-box role. And second, it allows Maldini to join the defensive line, inside club teammate Desailly, and alongside Scirea, Thuram and Zoff.
The team is characterised by an impressive work rate that should give us an edge off the ball.
Herrera argues his Grande Inter wasn't just defensive and, particularly when Suarez and Corso were available, was very progressive. At their peak in 64/65, they trounced Liverpool 3-0, Rangers 3-1 and Dinamo Bucharest 6-0, and scored 16 goals more than anyone else in Serie A. The plan here is for Suarez to dictate the game with the rock-solid platform behind him and the complementary and progressive options alongside in Iniesta and Conti. The addition of Iniesta and Baggio should complement Conti and Suarez and generate smooth transitions through midfield and into the opposition box.