Joined

Jan 8, 2014
Messages

13,713
Team Raees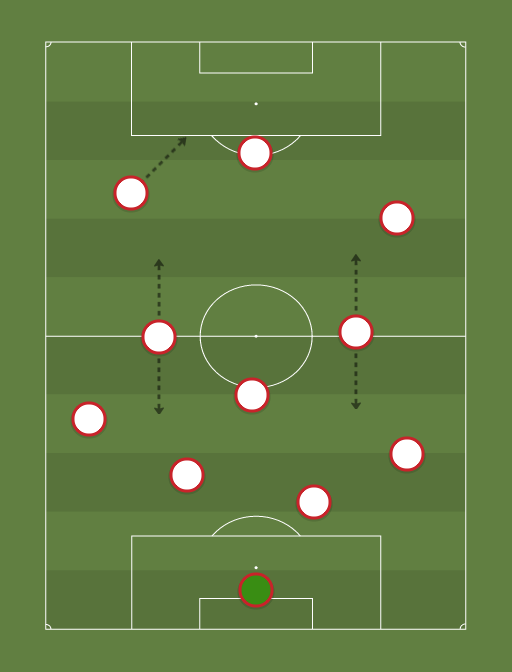 VS

Team BIG DUNK






Team Raees (Udo Lattek)

Playing style, tactics

Lattek was an incredibly adaptable and innovative manager whose Bayern side often gets overlooked in favour of the Dutch sides of the 70's... his Bayern side was just as futuristic with its crazy full backs who could join in with the midfield and wide players who were playmakers rather than just out and out wide men. He seemingly favoured a hard working base in midfield across his various sides and also deployed a libero more often than not... preferring to have a sweeper to clean up any complexities posed by the opposition threat.

I modelled his side more on the Bayern outfit of the early 70's but it is more of a Greatest Hits tribute act.

Player roles

GK: FILLOL (75-78) - based on Sepp Maier ... an agile shot stopper, the Argentine is a great All-time level replacement for him.

RB: BURGNICH (63-66) - based on Berti Vogts... tucked in defensive right back cum man marker... The Italian was the original.

CB: GODIN (13-16) - based on Schwarzenbeck... the steel to Beckenbauer's classier approach

SW: BARESI (87-90) - based on Beckenbauer.

LB: NILTON (55-58) - based on Breitner.. pioneer of attacking left backs and right footed to boot.

MIDFIELD TRIO: EDWARDS (55-58) - TARDELLI (80-83) - MASOPUST (60-63) based on Roth-Kappelmann-Zobel .. hard working box to box trio.

RW: FINNEY (53-56) - based on Hoeness all-round winger/playmaker/wing forward who could score create, score and control in equal measure

LW: RIVALDO (97-00) - based on KH Rummenigge, explosive free roaming wide forward/support striker who could devaste teams with his potency in front of goal and speed of thought.

CF: ROMARIO (91-94) - the perfect replacement for Gerd Muller.

Team BIG DUNK (Nereo Rocco)



Inspiration/blueprint

Nereo Rocco's AC Milan: 1st spell (1961-63) & 2nd spell (1967-73).

Team specific: 1969 European Cup Final - AC Milan 4-1 Ajax
Playing style, tactics
Highly disciplined and defensively organised 4-3-3, while still being very potent and direct on the counter attack. Scirea performs the libero role (modern ball playing centreback) whose expert positioning and movement is still effective with the modern offside rules. Bergomi, Gentile and Maldini can be assigned specific man marking duties, while also incorporating the modern catenaccio variation of mixed zonal marking. Deschamps can hold while Maldini or Scirea move forward. Bergomi, Scirea, Gentile and Maldini are all competent on the ball and with the ball, able to initiate attacks.
Our industry is matched by our artistry and prolific threat in attack. Having three in midfield will help to contest against possession-focused opponents, and help to control the game with and without the ball. We can build play through Scirea from deep. Our defence and attack is linked by French pair Deschamps and Tigana. Our creative play will flow through Zidane, and through Del Piero and Figo on the flanks. Luis Figo can swap wings or move centrally. Our attack is very dangerous on the counter attack, and on well-timed vertical passing transitions. Del Piero will cut in from the left wing, whose runs will create space for Batistuta.
By allowing and encouraging our opponent to attack, I believe I have the ultimate defensive platform to nullify my opponent, then counter with a very potent and clutch attack. We possess defensive strength, all-round team balance, workrate, creativity and goals. We have the tools to adapt to each opponent and exploit their weaknesses.
Player roles

Gianluigi Buffon (Goalkeeper)
- the greatest goalkeeper of all time, Gianluigi Buffon. He will form an impenetrable unit alongside Maldini, Gentile, Bergomi and Scirea. I have not seen a more complete goalkeeper than Super Gigi.
Giuseppe Bergomi (Right back)
– you cannot get a superior upgrade for Angelo Anquilletti than Bergomi. Angelo Anquilletti was actually an inspiration for a young Claudio Gentile. Bergomi will be utilised as my defensive right back. Bergomi is one of the greatest man-markers of all time, if not Italy's best ever stopper. His defending style combined the no-nonsense tough-tackling reminiscent of classic catenaccio, with defensive discipline that set him apart from other tough markers of his era and before. Giuseppe was a tenacious but very efficient tackler, whose awareness for danger and space helped him to break down attacking moves and anticipate counter attacks.
Claudio Gentile (Stopper)
- the very master of the dark arts of defending, Claudio Gentile is one of the toughest man markers of all time. A tenacious and physically dominant stopper who would lockdown the opponent's key creator, dangerous winger or goalscorer. Like the great Rocco, Gentile meticulously studied pre-game his marking assignment: identifying their strengths, and preying on their weaknesses. As with Bergomi and Maldini, Gentile can work across the back four in a variety of roles, with the tactical intelligence, technical ability and mobility to start a quick counter attack. Like the legendary Roberto Rosato, it is important that Gentile can operate as a centreback, fullback or defensive midfielder when called upon.
Gaetano Scirea (Libero)
- il Grande Capitano, Juve's greatest ever defender. Scirea is technically and tactically a perfect ball-playing central defender. Scirea transformed the limited and defensive interpretation of the sweeper role, and perfected it into the integral creative fulcrum from deep. Scirea possessed an allround game, demonstrating an elegance on the ball and passing skills that set him apart from other libero's of his era. In this free role, Scirea will roam along his back line, shutting down attacks, closing down any spaces, covering his man-markers and anticipating any threat, then using his vision and playmaking skills to dribble the ball forward or pass to his midfielders and forwards with accurate longballs. Scirea wasn't an aggressive tackler, but instead made well-timed interceptions and slide tackles. One-on-one against a striker or winger, you could almost always guarantee Scirea coming out with the ball, gracefully gliding forward to initiate another attack.
Paolo Maldini (Left back)
- Not only the greatest left back of all time, Maldini is unquestionably one of the best players in football history. Paolo Maldini is the ultimate defender; in the sense he has every quality and skill you need at fullback or centreback. In the 90s you could appreciate him as a true athlete, nearly impossible to run past and powerful charging forward with the ball. Maldini controlled, crossed and passed the ball with great composure and precision. Maldini's positioning, reading of the game and discipline was world-class. He executed perfectly- timed slide tackles and strong interceptions. When he positioned himself between the ball and attacker, his opponent had no chance in outmuscling and winning back the ball from the strong, agile and towering figure of Maldini. Maldini has more attacking licence down his flank than Bergomi, while also forming a solid 3-man defence with Gentile and Bergomi, when Scirea joins the attack. There is no finer upgrade to Schnellinger or Sabadini than Paolo Maldini.
Didier Deschamps (Defensive midfielder)
- The highly disciplined Didier Deschamps will break down my opponent's attacks, screen my back four and distribute the ball with accuracy. His tactical and positional intelligence in the enforcer role is very important. Deschamps has a massive match engine too, demonstrating his tenacity and pressing in areas across the midfield, both deep, central and high up the pitch. For the sheer balance he brings, vision and leadership he possesses, Deschamps is a key cog here. Giovanni Trapattoni was Nereo Rocco's anchor, linking the Rossoneri's defence and attack. Deschamps is the clinical master of this.
Jean Tigana (Box to box midfielder)
- One of the finest box-to-box midfielders of the 80s and all-time, Jean Tigana fulfils two functions in this role: 1) his tenacious tackling, pressing, intelligent covering and endless workrate across the pitch is invaluable defensively; 2) 'Jeannot' was also effective bringing the ball forward, knitting play together with incisive short passes/through-balls and driving into the last third. Tigana's all-round game and defensive influence when we don't have the ball is vital. The defensive assurance that Tigana and Deschamps provides allows the creative likes of Zidane, Figo and Del Piero to express themselves freely. Tigana is the integral engine room of my team, as both Benetti and Lodetti so perfectly served under Rocco.
Zinedine Zidane (Attacking midfielder)
- The artist amongst all the industry, Zizou is my fantasista. Not only one of the best playmakers of all time, but one of the all-time greatest footballers. A creative midfielder possessing pure technique: whether it be his elegant ball control and dribbling, accurate passing or highly technical shooting, Zidane moved with the ball with balance and grace like no other. Excellent vision, football IQ and an ability to shine the brightest in the biggest games. Zidane has the perfect defensive cover and workrate in Deschamps and Tigana, and the ideal attacking partners in Del Piero, Figo and Batistuta. As Gianni Rivera before him, Zidane is the dream artist to complement the ruthlessness of Catenaccio.
Luis Figo (Right winger)
- Arguably the greatest playmaking winger of all time. Figo's dribbling and crossing ability made him one of the most effective wingers in football history. His football intelligence and link-up play makes him dangerous cutting in too, combining with Zidane centrally. Figo adds creativity and goals from the wing (a monstrous 55 goals and 62 assists in his allocated 3 seasons). To ease the creative responsibility on Zidane, I will make use of Luis Figo's high workrate on the right wing - Batistuta will no doubt benefit from Figo's accurate crosses from the flanks, through-balls and drilled cut-backs. A tactical change and upgrade to Kurt Hamrin: Figo offers me more of a playmaking threat (creative winger-type > direct wingforward), adding superior workrate (both attacking and defensive) and covering behind. Figo gets the best out of Batistuta-Del Piero-Zidane, like no other winger in history could.
Gabriel Batistuta (Centre forward)
- I needed a clinical finisher, lethal with both feet, in the air, in the box and from long range. A complete striker who was arguably the most consistent and finest striker in Serie A in the 90s, and regarded as one of the greatest centre forwards of all time. 'Batigol' is both a prolific goalscorer and a creative team player (excellent link-up play with his secondary strike partner/playmaker). His sheer power and shooting technique was world-class, adding to his predatory instinct and intelligent positioning. Batistuta represents all the qualities of José Altafini and Angelo Sormani wrapped in one offensive package.
Alessandro Del Piero (Supporting striker)
– there is no forward in football history who can encapsulate Pierino Prati's role more wonderfully than Del Piero: a secondary striker who can play anywhere along the front-line, but primarily here off the left wing, employed as both a creative and goalscoring threat. A highly skilled technician whose dribbling, set-piece, crossing and shooting technique were worldclass. Del Piero fits perfectly here as he works seamlessly in an attacking triumvirate: his creativity, link-up play and support for a centre-forward (Batistuta) and his fluid movement and quick-passing partnership with my playmaker (Zidane) is tactically vital. Operating in his famous 'Del Piero Zone', we'll take advantage of his assists, sharp turns, curling shots and direct penetration cutting inside. His workrate on the wing, also adds cover and helps to create space for his teammates. A consistent goalscorer, Alex will ease the scoring burden on Batistuta.
Alterations from the original
Nereo Rocco's system evolved through the eras, and he was open to make the necessary tactical adjustments. Here, we apply the modern adaption of the offside rule and positional discipline in the back four. Including an update to the mixed man/zonal-marking duties, in order to keep shape and not allowing any spaces for our opponent to work in. Rocco's expectation of hard-work and adaptive organisation is thus maintained.