Joined

Jul 19, 2014
Messages

4,902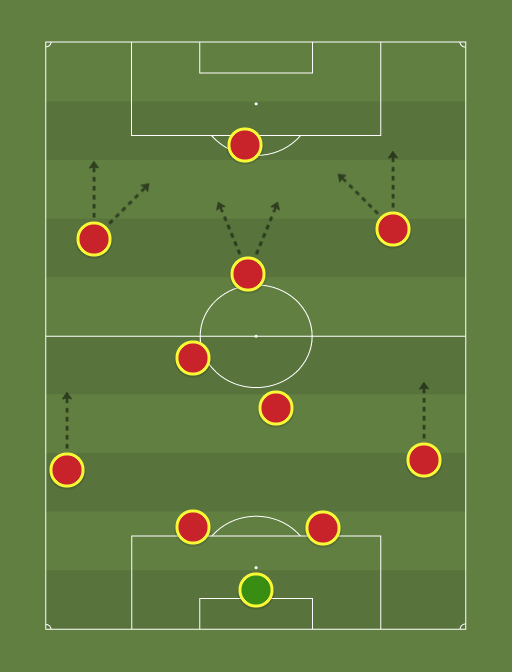 TEAM FORTITUDE (Sir Alex Ferguson)



Inspiration:

Sir Alex Ferguson's United of the '06 - '09 era

Tactical intent

: an eclectic mix of tempo football, rapid and aggressive combination play and steady and able counter attacks - both of my central midfield pairing are capable of hitting balls over the top for Ronaldo or out to the channels to exploit space.

Defensive instruction

: A very high line intended to compress space and move my midfield higher up the pitch. I have a central bank of 4 through midfield and defense who are mobile, intelligent and able to turn defensive phases into attacking ones with swift passes through the lines or down the channels. Alves and Marcelo will occupy their flanks more with their trickery and offensive threat rather than via dogged, stay-at-home defending, which obviously does not play to their strengths.

Many a more dynamic side had been rolled out during the various iterations of what is perceived to be the great periods and teams of Fegie's reign, none, however, were more tactically and defensively astute than the '06 - '09 vintage. There are variations in personnel that could make for a better mirror, but in light of the opposition and my own strengths, plus the incorporation of

Ronaldo

, I feel as though there should be a few alterations from a complete mirror whilst attempting to keep the ethos the same where possible. For example, the backline of Fergie's era mirrored would have:

Marcelo----Hierro---------Varane---------Bossis

but because of what I am up against, and the opportunities it presents, it would be remiss of me to go against, what I believe someone with Fergie's attacking impetus would in this particular matchup, which would not be to invite pressure on his side when that opens the game up for the opposition. My intention is to suffocate the opposition and drive them back.

As you can see by all the arrows, the onus is on bringing the game to harms and his merry cohort - with my fullbacks, there is no point in trying to play a flat line that waits on the opposition, plus, by driving them back, I am making the game beneficial to my own team and their strengths. There is no set structure to my attack: left; right; through the middle, over the top; combination play; solo runs (that all 4 across the attacking line are renowned for); overlapping full-backs; overloading flanks - any of these things are possible in phases of attack for my team.

In both

Varane

and

Bossis

I have great pace and ability to carry the ball - from defence - a good 20yards+ without issue, with a competent, forward-motioned pass into penetrative areas concluding, but more importantly, into the feet of the midfield ahead of them. Seeler is a dogged, aggressive player who comes alive in the box, and my intention is for him to work and chase my CB's for the reason of keeping him away from my penalty area, on the chase, wherever possible. My defensive line will sit higher than Ferguson's

had to

as my slowest CB is considerably faster than that sides' with both of the aforementioned being very quick and nimble. I also believe both can stay tight to Seeler in the high line as he won't burn them for pace.
Team harms?

A question for harm's side is whether Cruyff will be his usual self who roams all over the pitch, or whether he'll aim to keep him high, invariably looking to hit my flanks in the space on the counter. The latter is preferred, as in the meantime, I fancy my side to do damage on the offensive end. De Bruyne is highly likely to be playing wide and hitting his gem balls across my CB line, which again is why compressing the space and giving Seeler less windows of opportunity to work in is my intent.

Facing Voronin and Breitner in midfield seems to be my destiny, and once again, Voronin will have a dynamic force to contend with in

Mazzola

, who will make both players mindful with his clever running, pace, and incisiveness.

Wolfgang Overath

is my ace card in midfield, however: a player with Scholes' passing range, the mobility and athleticism of the great midfielders and the defensive doggedness, positional and tactical ingenuity that ranks in the top percentile through the heart of midfield - I am very comfortable with him as the heartbeat of my central area running the game for my side. I am certain there is a solid case for him against anyone he will face as he has a plethora of ways to truly turn or affect a game.

As an underrated legend, it is probably more important for his brilliance to be highlighted:

Beside him, there is

Schweinsteiger

, who for many, ranks as the better player with the higher peak. I wouldn't concur with that view, and I think Overath is underrated because of who his team-mate(!) was who took practically all the glory, even in tandem affairs. I have elected for an Overath at his physical peak to combat the opposition's pace power and stamina, but mostly, I expect it to be they who chase him and try and shut down his sublime passing range, deft movement and penetrative actions. I believe my central core, aided by Mazzola's guile, industry and superfluous combination play, is more than a match for the more industrious personnel marshelling the middle for harms. We can battle and fight if necessary, but our desire is slick passing and the intent, just as with Carrick-Scholes-Rooney is to make the opposition chase shadows and exasperate themselves via how redundant pressing my midfield is. Unlike Ferguson's vintage with Scholes, I don't have the issue of defensive scrambling through midfield when a play breaks down as Overath is an exceptional retriever of the ball and no slouch in intercepting on passing lanes.

As can probably be gathered, this team is geared towards attack, which is where things come alive and a myriad of problems present themselves for harms and his better-than-average-but-not-the-greatest defensive partnership

. There's a lot to rate in both McGrath and Ferrera, indeed, McGrath's WC 94' is the stuff of legend,

but this is something different, this is Ronaldo at his peak

having balls slotted through, left, right and centre with a supporting cast who can all dribble brilliantly, are fast, mobile and serious threats in their own right.

Ronaldo has no problem occupying both centrebacks before playing anyone around him in, or using them as a foil in a give-and-go, and in Mazzola and Dzajic, I have two players who will be in their element working with the phenomenon; Finney's ability to run directly at the opposition and toward goal is custom-made for a Ronaldo lay-off. This is a quartet who will be thrusting forward in the manner of the Fergie sides they've been remade in the image of.

I've said Ronaldo should be on the block list - let's be real here, he's a game-breaking striker, no, he is

the

game-breaking striker, and outside of less than a handful of CB's, the reality is, killing supply is the realistic hope of stopping him.

Obligatory Video:

Whilst attention is put on him, there should be ample opportunity for the remainder of the aforementioned quartet to work their magic.

If that was not enough, in Daniel Alves, there is a matchwinner in his own right

. A full-back who is perfectly comfortable as a pseudo: midfielder, winger or wing-forward. I feel my right flank brings a lot to the table, enough that it should be planned for, and rarely the flank under the cosh from the opposition - Cruyff has to track Alves; a midfielder would be remiss not to aid the full-back and wide-man facing my guys 1-on-1, which frees space for Mazzola to run into and stretches the centre-back on that side at a time when they really shouldn't be having their eyes off a far superior athlete in Ronaldo. Both Finney and Alves can go inside or out, and Alves is perfectly comfortable on the overlap, and most uniquely (or better to say in really elite company for full-backs who can be a true threat on the inside), Alves can cut towards goal whilst Finney takes the play wide. It's a case of pick your poison in terms of what you plan for in dealing with such a multi-faceted attacking flank, and it is with this, I hope to suppress harm's ideas of getting at my backline, or making for a 50-50 contest down this side of the pitch.

Dzajic and Marcelo are the more traditional flank-pairing

; Marcelo is a legendary overlapper, and Dzajic, a legendary dribbler and user of the ball renowned for his decision making, timing and give and goes. Again, to contain Ronaldo, particularly with the armada coming in and around him in support is massive challenge.

In harms' team there are no doubt multiple threat in their own right; I should be facing a dynamic, interchanging 4-3-3, but what I don't believe can happen is a game where the play is back and forth, as in, where my team is not the one doing the attacking, and his isn't the one looking to hit on the counter - an open game is definitely not to his benefit. Pace, dribbling that is proven to occupy two, and even three men is proven in my attack; in an open game, my side is going to find more ways to score than harms' who, when broken down to the most most basic elements, is more likely to have a side hitting flash balls across my CB's and attacking down the channels to then attempt a cross or cutback than it is to run at the heart of my side or work numerous players into goalscoring positions. I have 5 players on the pitch who can turn a game in an instant, whilst harms' side is more balanced and able in terms of taking a sock in the mouth and then giving one back, but again, I go back to Ronaldo who sort of short circuits this line of thought via his one-man-juggernautiness thing that you cannot legislate for in the same way as a typical striker that gives me a lot more room to play in (as the other gamebreakers, imo, do) and with - through the occupied concern of containing Ronaldo, the game should open up for my other players, who are obviously no slouches in their own right.

I feel a paragraph should be reserved for Cruyff

who should be planned for as he is a beast in his own right, but what I do envisage for him in this game is having to drop deeper and deeper to both aid his team and get in on the action. This is better for me than him being able to focus almost solely on the final third and attack - as I've stated, there will be spaces behind my full-backs, but the opportunity to slide into them and disconnect from the game going on around him, will not be there for Cruyff whose pace, mobility and combination play is essential for harms' side to unsettle my side and have my players scramble in the manner I've described for my players verses his defence. harms' side lacks in the dribbling and solo-running department, which further gives credence to Cruyff having to do a lot of ball-carrying work for the team, which, I think lends itself to the notion he has to come to the ball rather than run away from it and into space.

Relative to my team, creativity is at more of a premium for harms as it is funneled through fewer players who then have to stick to remits in the team, which don't lend themselves to working on the backfoot as I intend for them to do - Breitner's forte is long passes sprayed to players holding position and waiting on the ball. With how much work they have to do on the defensive end in this game, it will be harder for Breitner to hit his trademark passes, and over the top balls for Seeler to run on to, aren't the smartest use of the ball, so my idea with the attack I have is in it preventing the natural and organic game for his attackers. Between Lerby and Brady there is a choice to be made that adds strengths to one department and sacrifices to the other - Brady fielding gives more creativity, but he is not your man in a condensed midfield battling tooth and nail in a high octane game - Brady is your man in a game where your side is the one in control and dominant in possession, where his creativity and awareness has outlets ahead of him able to forage for space. That is not possible verses my side, which is why I feel Lerby is the better option to help out defensively, but also to then use his power and pace on turnovers of the ball. In Lerby, you get the industry and graft, but the deftness and finesse is reduced. I don't fear industry and hard running or pressing in this game as it shouldn't be a particular issue for my side; providing openings between the lines isn't the best course of action when faced with so many runners who can carry the ball from deep and turn the innocuous into the genuinely threatening.

As a Ferguson side, I don't have a system or locked set of rules to play within - with the personnel I have out there, I can switch formations rather effortlessly. The football should be: direct when needed; patient when required; dogged in defensive phases; supremely able on the counter; pacey on the flanks; enumerable threats in attacking phases with a will that refuses to be beaten. The team assembled ticks some of the tenets better than others, but ultimately, they will go out on their shield come what may.

TEAM HARMS (Valeriy Lobanovskyi)



Inspiration/blueprint

Valeriy Lobanovsky's Dinamo Kiyv 1974-1977

Here's a good video on Lobanovsky's tactics, albeit most of the examples are from his 80's team, but the key principles are the same

Formation

4-4-2/4-1-3-2
This is their generic set up, although sometimes Leonid Buryak played either instead of one of Veremeev/Muntyan or even as an additional midfielder in the place of one of the center backs.
Playing style, tactics
It's really Dutch totaalvoetbal combined with Soviet efficiency and discipline. While Michels gave his players more creative freedom (since he had better players, duh) and it was more of a controlled chaos situation, Lobanovsky actually created a template that was taking the automatisation on another level. Like Pep does now, he had divided different zones in attack, which always should contain one player — no less and no more; but he had encouraged positional interchanges and at their best Dinamo was just a marvel to watch. Considering the level of players that I bring in, it should add even more flair to this idea, although you've had enough beautiful one-twos, backheels, tricks and feints in the original version as well. Defensively it's a collective pressing all the way and a relative high line — which may look like a suicide against peak Ronaldo, but I'll link up the game where Ferrara does exactly that. You're not going to stop Ronaldo comlepetely anyway, so you may as well limit the amount of times that he'll get the ball.
Player roles

GK - Sepp Maier.
Pretty straightforward role for one of the positional GOATs.
RB - Manuel Amoros.
He's going to be responsible for the whole wing, as he doesn't have a line-hugging player in front of him, but he'll get a lot of support from De Bruyne & Seeler who had often operated in that right wing inside/outside channels.
CB - Ciro Ferrara.
An excellent fit for my aggressive defensive set up — he was very adapt at playing in a high line and was very good with the ball, which is always a bonus. Plus he has enough experience outwide and on the right of a back three, so he'll be a perfect cover man for Amoros. To highlight what I expect of him, here's Ciro Ferrara's brilliant performance against Inter Milan with the peak version of El Fenomeno on the pitch. Sadly, it's not my vid, so it only shows good bits, but considering the enormous level of threat (I consider that season's Ronaldo as arguably the second most devastating player of all-time), they did quite good, limiting him to "only" an assist.
CB - Paul McGrath.
When he was fit, it was quite hard to find a better and more natural defender. I'd also say that athletically and physically he's one of the most gifted center backs of all-time, but you should probably include his breaking knees in there, which takes it down a notch.
LB - Hans-Peter Briegel.
Another absolute unit that could've easily compete in professional decathlon if not for football. His instructions are pretty much the same as the one that I gave to Amoros.
DM - Valeriy Voronin.
Konkov was pretty crucial to the whole system, as he was the foundation on which the whole midfield structure was based. Calm, composed and yet also aggressive and physical, he rarely made attacking runs (although his unexpected runs often led to dangerous situations) and was more involved in moving the ball forward, simply and efficiently. It's hard to find a better upgrade than Voronin for this role.
RM - Kevin De Bruyne.
His role here a bit overlaps with his role at City. I'd say a central midfielder with tendency to lean towards the right side. Here's an interesting video about him by Tifo:
CM - Paul Breitner.
Viktor Kolotov's role is one of the most interesting in that system. He was very different from your normal attacking midfielder or even a number 10 — but rather a box-to-box who often took advantage of Blokhin and Onyshchenko moving out of the way to clear the space for his runs. I needed a proper goalscoring center mid and there aren't many better than Paul Breitner himself. Their interplay with Cruyff and Seeler should be magnificent — both of my forwards had similar partnership over the years: Cruyff with Neeskens and Seeler, most notably, with young Franz Beckenbauer in 1966.
LM - Søren Lerby.
A player with 3 lungs, who had literally played in 2 different games throughout the same day, insanely hard-working ball-winner, but also someone who had often acted as the main midfield playmaker in his teams (most notably for Denmark, with young Laudrup playing as a free-roaming forward).
FW - Johan Cruyff.
The numbers are a bit different, but essentially it's still a totaalvoetbal system, and there's no one better than Johan Cruyff to led that side. He may not have Blokhin's blistering pace, but he well compensates for it with his other talents.
FW - Uwe Seeler.
I needed a striker who can act not only as a striker, and there's hardly anyone better than Seeler for this weird task. Someone had even called this system a "formation with 2 false 9's", which sometimes was the case — but in different stages of the game Seeler can also act as a focus point of my attacks and his link up play with De Bruyne should be simply amazing.
Alterations from the original
I'd say that De Bruyne is more alike Veremeev and Lerby is somewhat closer Muntyan, so technically I had switched their flanks, but in reality they all roamed all around. I also tried to make sure that my midfield unit had all the required qualities combined, creatively and defensively, and I wasn't as focused on finding perfect replicas for individual players per se
Blokhin/Cruyff switch will slightly differ the way that this team would play, but ultimately this is an upgrade that gives me way more options than it takes.
Last edited: