Joined

Oct 22, 2010
Messages

15,094
Neither the United States or Israel set out to target civilians. In contrast, Iran's proxies, like Hezbollah, target and justify targeting civilians.
Brig. Gen. (ret.) Zvika Fogel on the network here: Anyone who approaches the fence in order to check, for example, whether there are dead areas will be sentenced to death!
Ron Nisiel Interviewer: Even if it is an unarmed child? Vogel: Yes, even if it's a child.
There's tons of video corroboration of this mentality.
Bonus:
For the US: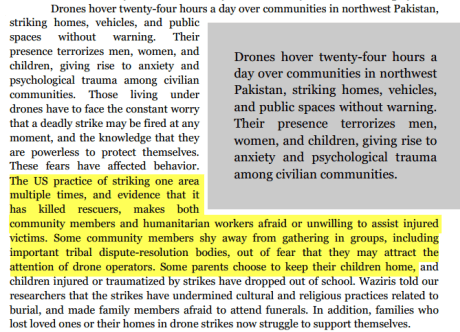 Along the same lines, note that the report confirms what had already been

previously documented

: the Obama campaign's despicable (and likely criminal) targeting of rescuers who arrive to provide aid to the victims of the original strike. Noting that even

funerals of drone victims have been targeted under Obama

, the report documents that the US has "made family members afraid to attend funerals". The result of this tactic is as predictable as it is heinous:

"Secondary strikes have discouraged average civilians from coming to one another's rescue, and even inhibited the provision of emergency medical assistance from humanitarian workers."

In the hierarchy of war crimes, deliberately targeting rescuers and funerals - so that aid workers are petrified to treat the wounded and family members are intimidated out of mourning their loved ones - ranks rather high, to put that mildly. Indeed, the US itself has

long maintained

that such "secondary strikes" are a prime hallmark of some of the world's most despised terrorist groups.
Mr. Obama embraced a disputed method for counting civilian casualties that did little to box him in. It in effect counts all military-age males in a strike zone as combatants, according to several administration officials, unless there is explicit intelligence posthumously proving them innocent.
If by definition no-one is a civilian, then you can never kill civilians. That's the value of the Harvard law degree!