Joined

Aug 3, 2017
Messages

4,335
This is a Pre Premier League draft from 1971/72 to 1991/92 where managers assemble their squads by selecting
players based on their playing performance during this time period only. Performances that fall outside this time period should not be considered. Neither should the players performance for their country/international tournaments be considered. As in any team, team tactics and balance also play a part.
Hence please carefully consider the abovesaid factors and evaluate the merits of both teams before voting for the team which in your opinion is likelier to win the match.
Team Tuppet

VS



Team Gio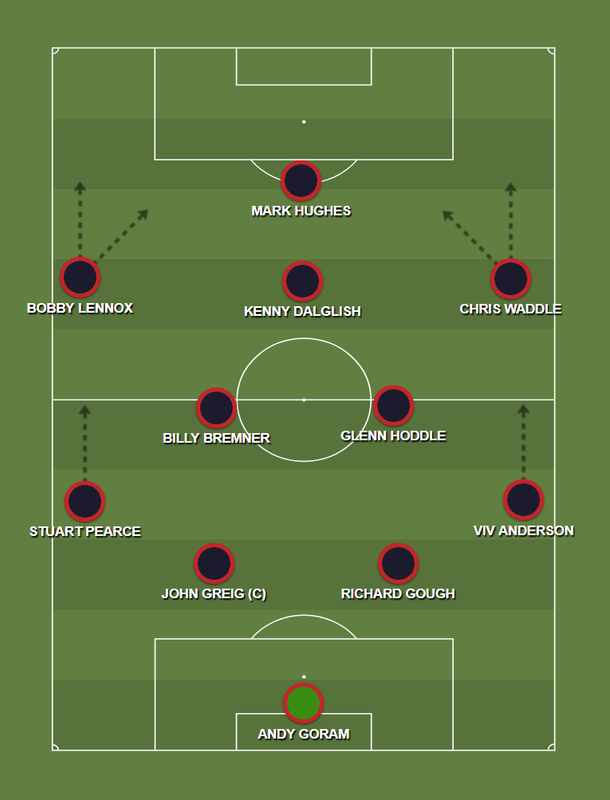 Tactics Team Tuppet
Formation
-
4-4-2
For the final reinforcement we welcome one of the best player in the draft & one of the best big game player Bryan Robson, who would take on from Bobby Murdoch to lead the team in the final round.
Our team is based on one of the most entertaining and successful teams of the draft era in Liverpool of late 80s. Barnes, Beardsley, Hansen & Rush were the pillars of Liverpool's success in this era and have great chemistry as well game winning pedigree. They are then supported by some other great players in the draft in Robson, Shilton, Johnstone & Alan Ball.

In Summary we have better goalkeeper by far in Shilton, the best defender in Hansen, the best midfielder in Robson, best winger in Barnes & best pure striker in Ian Rush. While team Gio has the best overall attacker in Dalglish as a unit our attack is better esp the fantastic Barnes-Beardsley connection that worked for both Liverpool & England. I think the quality & chemistry in our side should be enough to get a win against Gio's brilliant team.
Strikers
:
Ian Rush - PFA & FWA player of the year 1984. European golden boot- 1984. 5 times team of the year & Won 5 first division as well 2 European cups.
Peter Beardsley - PFA team of the year - 1987, 1988, 1990. Won first division - 1987-88, 1989-90
Up front we have a typical creator-scorer duo with Ian Rush as the best out and out goal scorer in the draft and Beardsley as one of the most creative player. Rush's goal. Beardsley would be playing as a withdrawn striker, often drop deep to carry the ball forward using his brilliant dribbling and technique. They also combined beautifully in 1990 season to give Liverpool a first division title win.
Midfield:

Bryan Robson - IMO the Best player in the draft.
Alan Ball.
In the central midfield we have Robson & Ball. Two very high energy midfielder who would cover every inch of the pitch supporting both attack & defense. Robson would be more defensive of the duo while Alan ball with his exceptional tenacity and technique would be playing in an attacking box to box role. Ball's defensive work rate as well as ability to pop up with important goals/crosses is very important for our midfield.
Wingers:

John Barnes - PFA player of the year - 1988, FWA Footballer of the year - 1988, 1990, PFA team of the year - 1987-88, 1989-90, 1990-91, Won first division - 1987-88, 1989-90
Jimmy Johnstone - Won Scottish league - 1971–72, 1972–73, 1973–74
Probably the best wing combination in draft Johnstone and Barnes provide brilliant wing play. Jinky johnstone is one of the best player on the park, an exceptional winger who was arguably the best player in Britain in early 70s. One of the greatest dribbler of all time, he is given a free role here, where he could chose to provide chances to Rush & Beardsley while also able to cut inside to finish some chances himself. On left we upgraded Sharpe to Barnes. One of England's truly great winger, Barnes here resume his mesmeric partnership with Beardsely, that brought some great moments for both Liverpool & England.
Central defense:

Alan Hansen - 6 times PFA team of the Year, 8 times Won the English first division, 3 times won European cup.
Mike England - Won Uefa cup 1972, League cup 1971 & 1973
In central defense we have partnership of Hansen - England. Hansen is arguably the best CB in the draft. He would be in his usual ball playing role. Mike England as a towering center half compliments Hansen perfectly. Together this partnership should be able to deal with threats both on deck and in the air.
Fullbacks:

Terry Cooper - Fairs cup - 1971.
Paul Madeley - PFA team of the year - 1973–74, 1974–75, 1975–76, Leeds player of the year - 1976, First division winner - 1973-74
In fullback positions we have Leeds duo of Terry Cooper and Paul Madeley. Cooper was a defender full of innovation. His fitness, skill and an ability to cross the ball meant he could perform a devastating overlap down the left flank. On the right side we have another Leeds legend in Madeley. While a player without profile who could play anywhere on the pitch he was immensely talented, racking up 711 appearances for an excellent Leeds vintage while winning Leeds player of the year in 76 and getting 3 times in PFA team of the year. He job is to stay balanced with a defense first attitude as in Jinky we have a very attacking presence in that wing.
Goalkeeper:

Peter Shilton - PFA Player of the year - 1977-78, IOC European Footballer of the Season: 1979–80, 10 times PFA team of the year, Nottingham Forest F.C. Player of the Year: 1981–82, Southampton F.C. Player of the Season: 1984–85, 1985–86
Our other reinforcement pick was used to upgrade Bonner to arguably the best goalkeeper in draft in Shilton. We don't need to say too much about him and his rewards tells it all. A brilliant goalkeeper that would go a long way to further secure our defense.
Tactics Team Gio
WHY WE WILL WIN:​
Two great attacks on show, but one has too much attacking power relative to the defence it faces. To me the Dalglish/Hughes combo will test England and Hansen to the limit, Lennox will have the pace and service to burst beyond Madeley, while Waddle could be a match-winner against Terry Cooper who, with less than a single season of his best performances, is there for the taking. Collectively there is a range of attacking weaponry - width, invention, incision, pace, strength, aerial ability - there that will be hard to defend against.


The move to 4-2-3-1 is about getting the best out of Kenny Dalglish and Glenn Hoddle. Dalglish drops into the hole where he was almost undefendable for Celtic and Liverpool. Here he should find space given neither Robbo and Ball, for all their multiple talents, were inclined to anchor the midfield (preferring to press and push on). Hoddle meanwhile is in the same right central midfield role he shone so brightly with at Monaco and Spurs, with runners and creative options aplenty ahead to unleash his passing ability upon. Stopping one of them might be possible, but both is unlikely.


The team benefits from a serious core of leadership of the greatest ever 'Ger John Greig, the serial winner Richard Gough, Leeds United captain and legend Billy Bremner and warrior left-back Stuart Pearce. The influence that central core will have on the rest of the team and the outcome of the game cannot be underestimated. Up top the Dalglish and Hughes pairing both shone when the pressure was greatest, delivering the goods in major European finals time after time.


Crucially our defence have a better chance of cancelling out the opposition attack. Despite beasting just about every defender in the pool, Ian Rush failed to score a single goal in 4 games against Richard Gough. Next to him is John Greig who, as a hybrid defender and midfielder, is well suited to tracking Beardsley and shutting out his space. On the left, a prime Pearce should be a tough assignment for a Johnstone who starts the draft at a high level but fades fairly quickly. On the right, John Barnes rates Viv Anderson as his toughest opponent and the best right-back he's ever played with or against.
PLAYERS:
​
Andy Goram
Scotland's greatest ever keeper and a legend at both Hibs and Rangers. In February 1990, World Soccer magazine stated that he had been in 'outstanding form during the last 3 years'. And in 1991 he became Britain's most expensive ever goalkeeper when signing for Rangers for £1.8m, going on to keep 25 clean sheets during his debut double-winning season. Exceptional shot-stopper with razor-sharp reflexes.
Richard Gough
Athletic and imposing, Gough was a classic attack-the-first ball centre half. His dynamism, professionalism and leadership were the bedrock behind Rangers' 9-in-a-row side during a career when he hauled in 21 trophies. Not just an SPL flat-track bully, as he twice almost won the European Cup, first with Dundee United in 1984/85 when they were edged out by Roma in a contentious semi, and second with Rangers as they were a goal away from knocking out Marseille in 1992/93. Given both clubs' form with referees and bribery at the time, he's rather unfortunate not to add a European Cup medal to that collection. Exceptional man-marker, famously shackled Van Basten at Euro '92, who also shone brightly at Spurs making the all-time XIs of the players that each of Graeme Souness, Glenn Hoddle and Gary Mabbutt have played with.
Read more...
Viv Anderson
One of the finest right-backs England has ever produced. A bedrock of Clough's great double European Cup winning Forest team, Anderson won 96% of the vote when fans voted the right-back into their greatest ever XI. Outstanding for Arsenal as well where fans who know their stuff will also rank him as their greatest ever right-back (unless you want to insert George's back 4 unit in en masse). Gangly, dynamic, defensively solid and a keen ball-carrier, Anderson was a modern yet robust full-back.
Notts Forest All-Time XI
European Cup Winner 1979, 1980
English First Division Winner 1977/78
PFA Team of the Year 1978, 1980 and 1987
John Greig
Voted Rangers' Greatest Ever Player, Greig was a born leader, a one-club man whose statue stands outside Ibrox today and remains the only man to have won the treble three times. A combative, commanding and energetic midfielder whose intelligence and understanding of the game enabled him to slip seamlessly across the back line as the needs of his club demanded. Here he moves into the left-back role where he won his Scottish Player of the Year award as he captained his side to the treble in 1976.
SFWA Footballer of the Year 1975/76
European Cup Winners Cup Winner 1971/72
Multiple domestic titles and trophies (including 3 trebles)
Stuart Pearce
Brimming with leadership, passion and a left peg that packed a punch, Pearce was a huge influence on the players around him and the fortunes of Forest. Took Sansom's ever-present spot in the PFA Team of the Year to become the unanimous choice at left-back from 1987 through to 1992. Played like a man possessed in 1990/91, scoring a frankly ridiculous 16 goals from left-back.
PFA Team of the Year 1987/88, 1988/89, 1989/90, 1990/91, 1991/92
Nottingham Forest Player of the Year 1988/89, 1990/91
Billy Bremner
'10 stone of barbed wire', Bremner was the driving force behind the great Leeds team of the early-to-mid 1970s. Hard as nails, but an exceptional all-round player who dominated midfields at all levels as regularly as anyone in the pool.
Division One Winner 1973/74
FA Cup Winner 1972
European Cup Runner-Up 1974/75
PFA Team of the Season 1973/74
Leeds United Greatest Ever Player
FWA Footballer of the Year 1970
Glenn Hoddle
One of the most gifted English players of all time. Technically exquisite, Hoddle's two-footedness and eyes-in-the-back-of-his-head vision allowed him to play early and penetrating passes before defences had time to react. Despite operating in the era of English football least conducive to enabling creative players, Hoddle was a sustained success, an almost ever-present in the PFA Team of the Year through the 1980s.
UEFA Cup winner: 1984
FA Cup winner: 1981, 1982
PFA Young Player of the Year: 1979–80
PFA Second Division Team of the Year: 1977–78
PFA First Division Team of the Year: 1979–80, 1981–82, 1983–84, 1985–86, 1986–87
PFA Team of the Century
Bobby Lennox
Celtic's greatest ever left winger. Heavy duty goalscorer from out wide scoring a whopping 234 goals during Celtic's 9-in-a-row stretch. Lennox was 27 at the start of the draft period where his record holds up well:
1971/72 - 44 games, 19 goals
1972/73 - 29 games, 17 goals
1973/74 - 32 games, 27 goals
1974/75 - 19 games, 8 goals
1975/76 - 36 games, 14 goals
That would be an impressive enough return for a centre-forward, better still for a left winger. Incidentally it's no surprise that the season Celtic's run came to an end was the same season that Lennox was missing for large parts through injury. Lennox aged better than a lot of the Lisbon Lion generation, retaining his searing pace into his early 30s owing much to both his genetic gifts and his professional attitude off the park. He was the last of that great team to retire in 1980, having scored a further 15 goals in his final campaign.
Chris Waddle
Dribbling king whose close control, invention and goal threat made him a handful for even the best opposition. Although he hit double figures 5 times out of 6 from 1983 to 1989, it was his shuffling, shimmying and almost undefendable dribbling style that stood him out from the crowd. His form in England prompted Marseille to make him the 3rd most expensive player of all time (behind Maradona and Gullit) in 1989.
PFA Team of the Year 1984/85 and 1988/89
Spurs Player of the Year 1988
Kenny Dalglish
Liverpool and Scotland's greatest ever player. Dalglish was the complete attacker: scorer of a whopping 336 goals, two-footed, sensational at linking up play and holding the ball up.
10 league titles
10 domestic cups (FA/League)
3 European Cups
Ballon d'Or: Runner-up 1983
FWA Footballer of the Year: 1978–79, 1982–83
PFA Players' Player of the Year: 1982–83
IOC European Footballer of the Season: 1977–78
Mark Hughes
Warrior centre-forward who made a career out of bullying centre-halves. Worked off limited service at times during the 1980s for United, but still regularly impacted games securing two Player of the Year awards. Perhaps the best volleyer of a ball the British game has seen.
PFA Player of the Year 1988/89, 1990/91
PFA Young Player of the Year 1984/85
European Cup Winners Cup Winner 1991
European Super Cup Winner 1991
FA Cup and League Cup Winner 1985, 1990, 1992