Joined

Aug 1, 2006
Messages

47,481
Location
So in the thread about today's international matches there were some posts about Ruben Dias and how good he is. There have also been a couple of CBs who were signed for a fairly big amount of money from teams in that league. So how good are the CBs there now and how good have the CBs been that were signed during their hype phase in previous seasons?
Here are the most expensive CBs from Liga NOS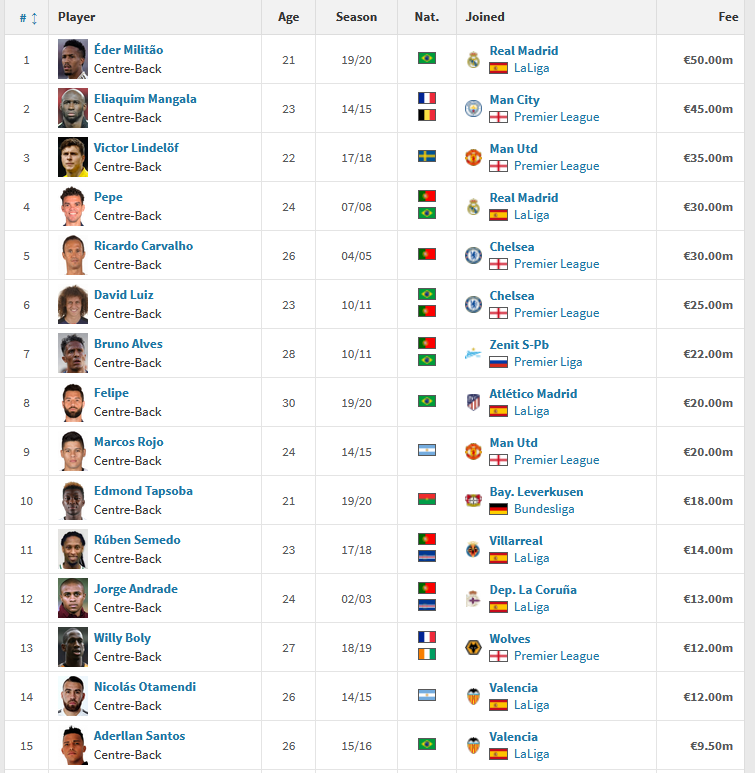 How many of them have gone to their new clubs and been great CBs?
Theres obviously some nuance. They arent all exactly the same. For example Militao wins the ball quite a lot. Pepe won the ball quite a lot until his final seasons at Madrid and not so much coming to the end and since leaving. Otamendi did win the ball a lot at Valencia, then won the ball less and less at City to the point where now he wins the ball a small amount. Similar for David Luiz, when he first came to Chelsea he won the ball a decent amount and as he got older he doesn't anymore. Boly is a ball winning CB at Wolves. Rojo had times when he did win the ball a fair bit, despite being very reckless and then in recent seasons on the few occasions he did play he wasnt a ball winner at all. Lindelof, Mangala and Ruben Dias win the ball a small amount and thats never been different.
They are also of differing quality when they've been on the ball too.
Overall though? I dont think its unfair to suggest that Carvalho and Pepe were the only 2 that have had a period where they were truly top CBs and Militao has plenty of time to sink or swim given hes 21 so its fair to say we just dont know with him.
I would argue that if you looked at a list of players signed from the portuguese leagues you'd find a lot more great buys in attacking areas than CB. And that while obviously there have been some CBs that would be great to have in their prime at the heart of our defense, most of the time they failed to become top CBs and even though there seems to be a lot of hype about a CB or two from that league every year, the record of them coming good leaves a lot to be desired.