Poster of the Year 2015 & 2018
Staff
Joined

Mar 22, 2014
Messages

13,788
Supports

Piracy on the High Seas
.........................
Team 2mufc0
Inspiration/blueprint
Jose's first Chelsea team (04-06)
Playing style, tactics
Before his United stint Jose Mourinho was an incredible manager who took on some of the best teams and managers of all time and bettered them, sometimes even with lesser teams (e.g RM vs Pep's Barca and his Inter and Porto teams), he also built on and established a resurgent Chelsea team after Roman Abramovich took over.
Mourinho's best teams were pretty dominant, he also knew when to park the plane as he would say and when to just let the hand brake off. In terms of tactics and play style, much like Sir Alex it was pretty simple, direct, pacey and at times physical. However, unlike Sir Alex, Mourinho didn't particularly rely on traditional wing play, although he did utilise wingers he also had no issues with wing forwards and play makers playing out wide (Joe Cole, Robben, Eto'o, Ronaldo, Willian, Hazard etc).
The attacking play didn't have a particular focus, but playing off a centre forward who was good at holding up the ball was a key feature, allowing the wide men and attacking midfielders to push forward and get into goal scoring positions. Pacey wide men were also a feature making them deadly when running into space during counter attacks.
In terms of defence, he normally lined up with two physically dominate central defenders, he also wasn't afraid to use an attacking full back on one side and a more defensive on the other, the goal keeper is required to be a good shot stopper with good reflexes. The midfield normally required bundles of energy and tenacity but he also wasn't averse to playing technical play makers in the middle (Alonso, Motta, Fabregas etc), however a key feature is the attacking midfielder or 8 who is given more freedom to attack and push forward but still required to put a defensive shift in.
A strong spine is essential with organisers/leaders in defence and midfield required as the defensive system was a collective effort for Mourinho teams, keeping it compact with high work rate across the park and then being able to release the ball quickly and directly to the forward line.
The attack was normally spear headed by a more physical centre forward who is good in the air and able to occupy the centre backs allowing surging runs from the B2B midfielders to be more effective. As discussed above the wide men can be both traditional and play making wide-men, however he did expect work rate from all attackers.
Player roles

GK: Gordon Banks
- one of the best goal keepers of all time, great shot stopper and great reflexes.
CB: Jurgen Kohler
- Physical, dominant and had some decent pace, an upgrade on John Terry.
CB: Marius Tresor
- Like Carvalho a great all round defender, physically imposing but good on the ball.
LB: Ruud Krol
- One of the best left backs of all time, was better going forward than Cole but just as good in defence.
RB: Djalma Santos
- A bit more defensive than Krol, but can also contribute when going forward as required.
CM: Graeme Souness
- Midfield enforcer in front of the defence but also good enough on the ball to pass around from deeper areas, because of his physicality he would be an upgrade on Makelele.
CM: Bernd Schuster
- Technically brilliant footballer but also handy in the defensive phase. An all action B2B who is an upgrade on Essien.
CM/AM: Lothar Matthaus
- A beast of a midfielder who is totally unleashed here to maximise his attacking potential but also has the work rate to help out in the defensive phase. Frank Lampard was a great player but Matthaus in this system would be a few notches above - which is scary considering what Lampard achieved.
LW: Hristo Stoichkov
- Attacking ability wise most would say he's up there with Robben, imo he's better, but offers a bit more work rate so would be home in a Jose team.
RW: Kurt Hamrin
- More of a wing-forward/playmaker, an upgrade on Joe Cole here.
CF: Sandor Kocsis
- like Drogba good in the area and will keep the opposition CB's on their toes, also better on the ball than the Ivorian so offers that bit more up front.
Team Synco
Inspiration:
Borussia Mönchengladbach's 2014/15 side
Formation:
In possession: fluid 4-2-4-0 with two false 9s up front
Against the ball: disciplined 4-4-2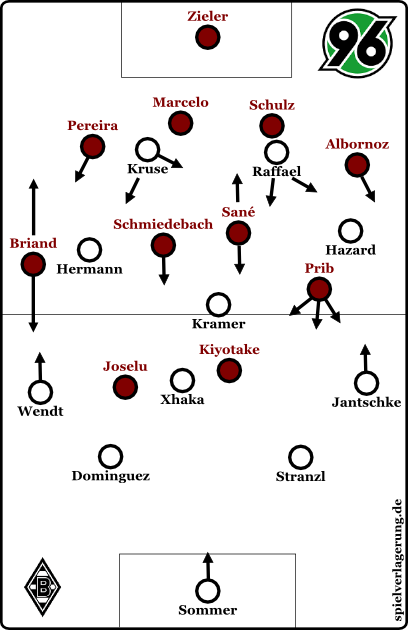 Playing style & tactics
Extremely versatile - Cruyff football meets Capello discipline - the specific mix depends on the opponent. Against a Mourinho team I expect to play firmly on the possession side of the spectrum.
Principles in possession
: rapid one-touch transitions, fluid possession game, constant positional interchanges. Emphasis on orchestrated passing and movement, augmented with speed dribblings and long diagonal balls to shift the game to open spaces.
Principles against the ball
: high workrate and discipline throughout the team. In defensive transition, the opponent is pressed to either win back the ball or slow down the counter. Against established opposition possession, the team retreats into their tight defensive 4-4-2 formation. When necessary, this formation can defend very deep, with the opposition game being directed to wide areas through midfield pressing from the forwards.
Player roles:
GK (Yann Sommer) - Libero goalkeeper, important part of pressing avoidance and buildup play.

CBs (Martin Stranzl, Álvaro Domínguez) - Modern CB partnership with equal roles. Anticipation is paramount for shielding a high line, good aerial abilities for a deep 4-4-2. Quarterbacks in possession, moving the ball and initiating attacks with diagonal passes.

RB/LB (Tony Jantschke, Oscar Wendt) - Somewhat asymmetric duo, with Wendt being a wingback with attacking skills, and Jantschke a mobile defensive allrounder (RB/CB/DM) with good technique. But both provide offensive width, and both are disciplined workers within the defensive formation. If one goes up (Wendt more often than Jantschke), the other is likely to remain in a half-covering position.

CMs (Granith Xhaka, Christoph Kramer) - On paper the partnership of a physical DLP and a physical box-to-box player, but in practise they share the various midfield tasks quite equally. Both are allrounders, acting as covering DMs (including wide areas), DLPs, and energetic box-to-box players. They provide steel, balance, a good game flow, and a wide range of action.

RW/LW (Patrick Herrmann, Thorgan Hazard) - Two agile wingers with technical quality and exceptional pace. The principles of positional fluidity means they regularly move to CF positions, where can they link up or finish. Also likely recipients of through balls on the break. Disciplined and tireless workers in all phases of the game - against the ball they counterpress and support their fullbacks in a classic 4-4-2 wing partnership.

CFs (Raffael, Kruse) - Two mobile and agile playmaking forwards. Always on the move and busy, they can fall back into midfield in buildup, creating numerical superiority and moving the ball forward. In the final third they operate wide, in AM, and up high, always in coordination with their fellow attackers. Hardworking first line of defense, can either press the opposition buildup or direct their possession to wide areas.
Players:
GK - Alisson - libero goalkeeper, strong allround goalkeeping skills.

Defense:

CB - Marcel Desailly - complete world class defender, suited for playing in a high line and deep defense. Strong technique, can move the ball forward in transition and possession phases.

CB - Thiago Silva - complete world class defender, proactive interceptor with pace and physical/aerial presence. Elite technique and passing ability.

RB - Mauro Tassotti - the more defensive fullback. Will provide offensive width and attacking runs when good opportunities appear.

LB - Gianluca Zambrotta - the more offensive fullback. Will often move into the LW position to contribute in attack, allowing the forwards to move inside or overload the wing. Expertly covered by Sammer and Thiago Silva when moving up, but will himself provide balance/cover when required.

Central midfield:

DM/CM - Matthias Sammer - all action central midfielder; intelligent tactician, aggressive defender, skilled playmaker, dangerous box to box presence.

DM/CM - Jean Tigana - intelligent, hardworking, very complete midfielder. Great balance between his impressive defensive and offensive skills. Will form a tight partnership with Sammer, each one supporting and balancing out the other.

Front four:

RW - Arjen Robben - unnecessary to say much about his qualities, except that he was much more complete than many people have it. A true total footballer, which is what this system is about. Will constantly interchange positions with the other forwards to break down the opposition defense. Defensively he supports Tassotti or contributes to high pressing.

LW - Franck Ribery - extremely fast wing playmaker/forward who will thrive in this team's fluid attack. His exceptional defensive workrate provides balance for the offensive-minded Zambrotta (who is a capable defender himself).

CF - Kevin Keegan - fast, highly mobile dribbling & playmaking forward. Enormous intensity with and against the ball. Will fall back into midfield in buildup and play all over the final third in attack.

CF - Karl-Heinz Rummenigge - technical forward/striker with extensive movement similar to Keegan's. Exceptional dribbling, playmaking and finishing qualities will help create synergies with his fellow attacking players, allowing Rummenigge to play at his best. High workrate against the ball.
Alterations from the original:
Not much; The players were drafted to meet the requirements of the system, which in turn allows them to express themselves. The result should be a cohesive, high-energy unit with 11 men defending and 11 men attacking.
Tigana lacks the aerial presence of Kramer, but Sammer and both CBs are more than comfortable defending high balls.
Good luck
@2mufc0
@Synco
!