Joined

Aug 3, 2017
Messages

4,042
Himannv/EAP Vs. Skizzo
Vs.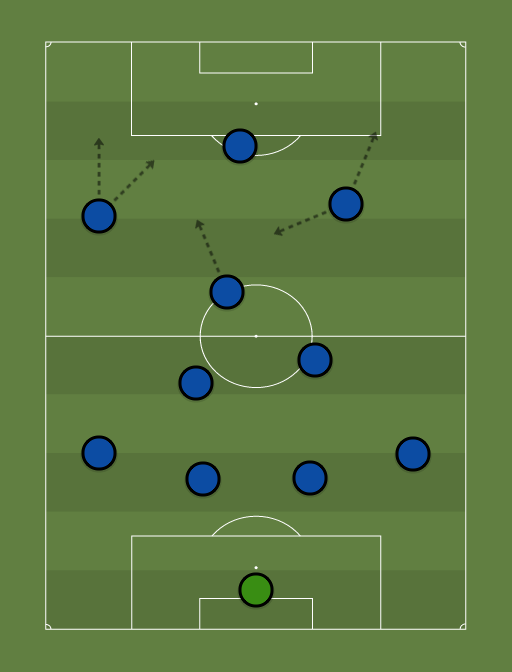 Tactics Team Himannv/EAP
Formation: 4-2-3-1 built around the genius of Sir Bobby Charlton.
A smooth and well coordinated attach with Law-Charlton being a proven dynamic. Giggs and Jinky provide pace and trickery down the flanks.
Souness-Alonso is a fully complementary pair gifted with power and passing. Souness provides the steel while Alonso will control the pace with his intelligence and passing from the deep.
Tresor-Vierchowod is a classic stopper/sweeper combo. They'll be adequate to handle the threat with shielding of Souness and Alonso ahead of them. They have the flair and solidity to contain Henry who better with a partner than a standalone striker anyway.
Amoros is comfortable at both flanks. In 1982 world cup he was sizzling at left back in a proven defensive partnership with Tresor.
Blokhin is not a traditional winger and is more likely to cut into middle. Janes was a halfback converted to fullback converted to Sweeper and perfect to squeeze in and provide defensive solidity. He's a good passer himself and has a reputation for being able to start plays from the back.
Tactics Team Skizzo
Line up/Formation - 433/4231
In goal is the legendary Italian Keeper,
Gianluigi Buffon
. The defense is shored up by one of the best english defenders of all time in
Rio Ferdinand
, who comes in to partner the ever reliable
Hans-Georg Schwarzenbeck
. The complementary duo will look to keep tabs on Law, with Schwarzenbeck taking primary responsibility, and Rio covering as necessary.
Danny McGrain and Bixente Lizarazu
take up the full back spots, and would look to overlap in attack where the opportunities arise and could see chances to overload at times. As always though, defense first, and both were defensively sound, all round players who could contribute both ways.
Paul Scholes
comes in to the midfield to partner
Claude Makelele
, and would look to spring the ball forward to hit openings on the counter. His ability to find quick short passes in between the lines, or longer balls over the top to drop on a dime means he provides an outlet that would need shutting down. Makelele takes primary responsibility for closing down Sir Bobby, and while no easy task, he's well suited for the job with his stamina, work rate and physicality. They create the base for
Gunter Netzer
to help link the back to the front, as he'd look to get on the ball and find the runs in behind of our front three. The movement, pace, and directness of our front three would create ample opportunities for Netzer to send them in behind.
Netzer would thrive in the directness and quick tempo of our setup, especially with the players ahead of him.
With an extra outlet behind him in Scholes, and the added goal threat up front, he'd cause some damage unless shut down.
King Kenny
comes in for Conti, and would look to play closer to the forward line. With his ability to play all across the attacking positions, he would look to drift wide at times, but also to probe the defensive line and fill space vacated as the other forwards move around.
The front three of Blokhin, Daglish, and Henry is brimming with pace, trickery, hard work, and most importantly, goals.
Henry playing through the center as a striker, putting him in where he did his best work. His ability to find the back of the net with clinical finishes in one on one situations, as well as his ability to score from outside the box and beat a man on the dribble, will be key to making the most of our chances on the counter. With his penchant for drifting along the front line and wide left, the fact he put up 23 assists in one season means we needed someone who could take advantage of his movement and vision. Step up Oleh Blokhin. Almost a 1 in 2 goal a game scorer at his peak, he would thrive on the space and movement offered by Henry, and the vision of Henry and Netzer. Daglish was no slouch with his vision and playmaking ,and his eye for goal would further increase our options along the attacking line.
On the counter, we offer too much of a threat to be shut out, and with distribution from deeper positions with Rio, Scholes, and Netzer, we have too many outlets to be shut down in quick transitions.